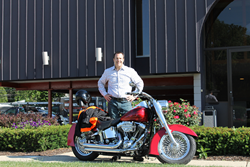 Many riders don't think a lot about their tires, but they are key to keeping traction on the road.
Detroit, MI (PRWEB) June 04, 2014
As The Motorcycle Lawyer, Jason Waechter has put a lot of effort into helping people affected by motorcycle crashes, and also to trying to prevent crashes from happening in the first place. Most of his efforts involve motorcycle awareness campaigns that remind car and truck drivers to Watch for Motorcycles. However, Waechter often gets gear and safety tips from fellow bikers, and tries to share the best tips with a wider audience.
"My involvement with the biker community means I get a lot of great insider information to share," says Waechter. "National Tire Safety Week is a great opportunity to share some tire-related tips from the riders and safety groups I've worked with."
Don't ignore your tires: "Many riders don't think a lot about their tires, but they are key to keeping traction on the road," says Waechter. He recommends inspecting tires regularly for cracks, foreign objects like nails, unusual wear, or other damage. Proper maintenance and off-season storage can make a huge difference in the lifespan of your tires.
Pressure is important: "Get yourself an accurate tire gauge, and keep it on you when you ride," Waechter advises. Bikers who do not have a tire gauge can request one through his website. Among other tire tips, NHTSA recommends checking tire pressure at least once a week or more often.
"Check your tires before you ride, when they're cold," advises Waechter. Remember that tire pressure can be affected by the temperature outside and the load you are carrying; your bike's owner's manual will provide information on how to adjust pressure accordingly. Waechter recommends buying a portable air tank for home use when tire pressure needs to be adjusted.
Be prepared: "Get an emergency kit; you can buy a pre-made kit, or assemble it yourself," says Waechter. "Just make sure you carry it with you every time you ride." An emergency kit should include tire plugs, a rasp, a retractable razor blade, an Allen wrench, an air pump or CO2 canisters, and repair instructions or an owner's manual.
"Always carry your phone when you ride, too. Put it away in your emergency kit so it won't distract you while you're in motion." Keep in mind that emergency roadside repairs are temporary; once the bike is functional and safe to ride, go straight to the nearest repair shop to have the plugs installed properly or to replace the tire altogether.
Finally, Waechter recommends that all motorcyclists familiarize themselves with their owner's manual, and find a professional mechanic they can trust. "Know your bike, your tires, and your limitations," recommends Waechter. "Hopefully, these tips will help riders stay a little safer on the roads."
###
Jason Waechter has spent two decades cementing his reputation for results. Over the years, he has specialized his practice to motorcycle accidents. Jason has fought tirelessly for accident injury victims and contributed significantly to safety education and accident prevention. He has entrenched himself as one of the nation's premier lawyers. If you or a loved one has been injured in an accident, call 1-800-708-5433 to speak with a lawyer who can help.