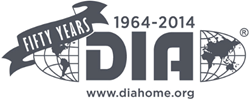 Washington (PRWEB) June 04, 2014
The world's foremost drug industry regulators will address urgent topics surrounding regulatory guidance, such as the challenges and future of the Food and Drug Administration (FDA) and its international counterparts, at the DIA 2014 50th Annual Meeting to be held at the San Diego Convention Center from June 15 to 19.
"We are honored and excited to have the international regulatory community participating in the DIA Annual Meeting. In attending the milestone meeting, these distinguished professionals are demonstrating their commitment to foster global harmonization while sharing knowledge and insight to advance world health," said DIA Global Chief Executive Barbara L. Kunz.
Barbara Sabourin, director general of the Therapeutic Products Directorate for the Health Products and Food Branch of Health Canada, will be a panelist for the session "A Common Decision Framework for Health Technology Assessment and Regulatory Agencies: Is This of Benefit to Stakeholders?"—held on June 16 at 8:30 a.m. Chaired by Neil McAuslane, director of the Centre for Innovation in Regulatory Science in the United Kingdom, the session will discuss how to achieve a consensus on a scientifically acceptable framework for making decisions that are broadly applicable to both health technology assessment and regulatory agencies.
Part one of the "New Approaches to International Collaboration Between Regulators" session, to be held on June 16 at 8:30 a.m., will feature Margaret A. Hamburg, commissioner of FDA, Guido Rasi, executive director of the European Medicines Agency, Tatsuya Kondo, chief executive of the Pharmaceuticals and Medical Devices Agency in Japan, and Supriya Sharma, acting associate assistant deputy minister of the Health Canada's Health Products and Food Branch, discussing challenges facing regulators and emerging initiatives. Part two of the session will include John Skerritt, national manager of Australia's Therapeutic Goods Administration, Aiping Zhang, inspector general of the Department of Drug and Cosmetics Supervision at the China Food and Drug Administration, and Jaime César de Moura Oliviera, director of the Agência Nacional de Vigilância Sanitária (ANVISA). Part two will immediately follow part one at 11 a.m.
The session on "Development of an Integrated Orphan Drug Framework in Canada," scheduled for June 17 at 10:30 a.m., will bring together top Health Canada regulators to discuss the development of Canada's first integrated orphan drug framework. Chaired by Sabourin, the session's panelists will discuss the key challenges of implementing a new regulatory framework, including developing adaptive licensing guidelines, to drive and regulate therapies for Canada's rare disease patients.
Janet Woodcock, director of the Center for Drug Evaluation and Research (CDER), will explore CDER's proposed reorganization of quality-related functions at a session titled "Introducing CDER's Office of Pharmaceutical Quality" on June 17 at 1:30 p.m.
"An International Approach to Benefit-Risk Assessment of Medicines: An Evaluation by a Consortium of Established Agencies" will feature Skerritt, Raymond Chua, group director of the Health Products Regulation Group for the Health Sciences Authority in Singapore, and Sabourin, discussing their joint review of and need for an aligned approach for benefit-risk assessment. The session will be held on June 18 at 10:30 a.m.
ABOUT DIA: DIA is the global connector in the life sciences product development process. Our association of more than 18,000 members builds productive relationships by bringing together regulators, innovators and influencers to exchange knowledge and collaborate in a neutral setting. DIA's network creates unparalleled opportunities for the exchange of knowledge and has the interdisciplinary experience to prepare for future developments. DIA is an independent, nonprofit organization with its global center in Washington, D.C., USA, and regional offices covering North and South America (Horsham, Pa., USA); Europe, North Africa and the Middle East (Basel, Switzerland); and Japan (Tokyo), India (Mumbai) and China (Beijing). For more information, visit http://www.diahome.org.
ABOUT DIA's 2014 50th ANNUAL MEETING: Celebrate the Past – Invent the Future is the largest multidisciplinary event that brings together a community of life sciences professionals at all levels and across all disciplines involved in the discovery, development and life cycle management of medical products. The meeting aims to foster innovation that will lead to the development of safe and effective medical products and therapies for patients. For more information, visit http://www.diahome.org/dia2014.