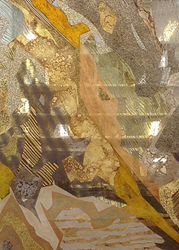 Ellner's piece, titled 'Fata Morgana,' is based on a specific type of superior mirage that alters objects until they are often unrecognizable.
New York, NY (PRWEB) June 10, 2014
Artist Miriam Ellner has been selected to participate in the Museum of Arts and Design juried exhibition, NYC Makers: The MAD Biennial, the first exhibit organized under the leadership of MAD's new director Glenn Adamson. Opening in July 2014, NYC Makers showcases the work of approximately 100 highly skilled New Yorkers who apply an outstanding level of workmanship to the creation of objects or environments that shape our everyday lives.
Ellner, a 2013 Arthur Ross winner, works in the rare field of verre églomisé: the process of gilding on the reverse side of glass, hand etching a design, and setting it off with color. She is one of few artists who have mastered this unique art form, making it fresh and relevant in the 21st century.
Her piece for NYC Makers: The MAD Biennial is a four paneled screen titled Fata Morgana, a form of superior mirage that alters the object upon which it is based, often so significantly that it is rendered completely unrecognizable. Working with reflection and light to create illusions with varying qualities of distortions that are stretched or compressed, Ellner uses the hot desert to explore this optical phenomenon. The screen employs four pairs of double-sided panels executed in gold leaf, white gold, palladium and moon gold with mica flakes, artist oils, glass beads and crushed abalone. The images change depending on the viewing position, time of day and the angle of light. The screen is framed very simply in bronze by Les Métalliers Champenois.
Ellner's work, which spans classical to modern and abstract design, enhances private collections and design projects around the world.
On view from July 1 through October 12, 2014, and marking the first in a series of exhibitions examining the culture of 'making' in urban communities, NYC Makers will underscore both the interconnection of cultural production in New York City today and the importance of craft in contemporary life. Featured participants include Laurie Anderson, Gaetano Pesce, The Metropolitan Opera, Lower East Side Printshop, Yoko Ono, CONFETTISYSTEM, Thunder Horse Video, Caroline Woolard, and Lindsey Adelman, among others.
NYC Makers: The MAD Biennial
The Museum of Arts and Design
2 Columbus Circle, New York, NY 10019
July 1 – October 12 2014
For additional information about the exhibit, contact: press(at)madmusem(dot)org
Visit Miriam Ellner's website:
http://www.miriamellner.com.
General Press representative for Miriam Ellner: SavoyPR
Contact: Betsyann Faiella
###