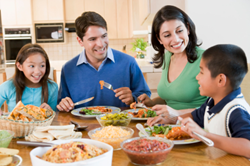 Eat only at meal time: breakfast, lunch, fruit as an afternoon snack, and dinner. The goal is to let your digestive system rest for 3-4 hours in between meals. -Dr. Marta Katalenas
Austin, TX (PRWEB) June 16, 2014
As part of her 12-month resolution plan Dr. Katalenas, an Austin TX pediatrician, challenges families to only eat three meals a day, with a piece of fruit as an afternoon snack. This philosophy is part of her book "The Step Up Diet: Quality, Quantity and Timing."
Dr. Katalenas informs parents that children's mealtimes should be scheduled about four hours apart. If breakfasts are scheduled as closely as possible to waking up, and healthy family dinners are scheduled closely to bedtime, parents can easily schedule lunch in the middle of the day and snack time between lunch and dinner. Dr. Katalenas recommends that snack time should wait until after school; for toddlers, it should follow their afternoon nap.
Many diet plans advocate eating six small meals throughout the day but Dr. Katalenas says it is important to train the body into eating only three meals.
"While some diet plans advocate eating several small meals throughout the day," said the pediatrician, "they are designed for adults who are already overweight and want to lose weight. Those plans offer a stepped-down approach. That is, they start decreasing the [quantity] of the meals first, while maintaining a high frequency of meals in order to make it easier for the person to engage."
Dr. Katalenas also recommends that both parents and children eat only at scheduled mealtimes: breakfast, lunch, fruit as an afternoon snack, and dinner. The goal is to let the digestive system rest for 3-4 hours in between meals. During those hours, parents and children shouldn't eat anything – just drink plain, unflavored water when thirsty. Parents are encouraged to schedule dinner after 7pm in order to maintain a 3-4 hours digestion schedule for their family.
Dr. Katalenas has created a list of monthly resolutions that the whole family can adopt on her website at http://www.DrKatalenas.com and she includes a printable flyer for download that she encourages parents to post on their refrigerator, helping families stay on track in the new year.
About Dr. Katalenas
Dr. Marta Katalenas is a board certified pediatrician and owner of the Pediatric Center of Round Rock. She is a public speaker and author of the book "The Step Up Diet: From Scratch… The Quality, Quantity, and Timing Solution to Childhood Obesity," a guide to healthy cooking and eating for busy families.