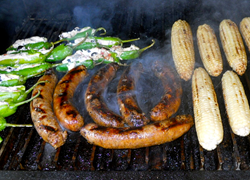 Grilled breakfast pizzas have become holiday morning staples at our house.
Cartersville, GA (PRWEB) June 04, 2014
Today Brad Barrett, President of GrillGrate, has released his favorite Father's Day grilling recipes.
Family style meals from the grill are always special, especially on Father's Day, which lands right in the middle of prime grilling season. Dad will be a grill hero with a piled-high Breakfast Pizza, Brats and Beer for lunch, or a classic London Broil recipe for dinner.
"Grilled breakfast pizzas have become holiday morning staples at our house," Barrett said. "I enjoy grilling in my bathrobe over coffee. The breakfast pizza is easy to assemble; the secret is grilling on low/ medium heat to let the pizza bake for 20 minutes. The hard part is letting it sit 3-4 minutes before cutting it and eating!"
For lunch, Barrett recommends keeping it simple with burgers, brats and beer, making it easy for Dad to grill for a crowd. Be prepared for company with an extra package of brats and buns and extra hamburger meat. When the brats 'split,' take a tip from the grilling pros and pour some beer into the brat and on the GrillGrate – this will steam the brats with delicious beer flavor.
For dinner Barrett offers up his Father's signature dish while he was growing up‑ London Broil Marinated in Catalina Dressing.
"I recall seeing those soaking hunks of meat in the refrigerator and knew that great grilling and eating was ahead. His London Broil became my signature dish as a young man and we often put one in the fridge around Father's day," Barrett said.
Father's Day at the grill is a gift every Dad will surely love. Find full recipe ingredients and instructions below, and for more information, visit http://www.grillgrate.com.
MamaMary's Gourmet Pizza Crusts- Original style crust with the lip around the edge.
3 Hardboiled Eggs loosely chopped-3 Red potatoes pre-cooked loosely chopped
6 Strips of Bacon crispy and crumbled
6 oz cooked and crumbled spicy sausage
1 Packet of 'White Country Sausage Flavor Gravy
1 cup of shredded cheddar cheese
Pile ingredients on top of MamaMary's Gourmet Pizza Crusts
Grill on low/medium heat for 20 minutes
Choose a thicker cut – a minimum of 2 inches or 4 inches, which will take about 30-45 minutes
Catalina dressing
Cracked pepper
Marinade the steak in a mixture of catalina dressing and black pepper for 6-24 hours, overnight if possible
Set grill to medium heat and allow for a longer cook, especially for thicker cuts. This will keep the sugary marinade from burning too quickly.
Turn every 5-7 minutes to get all surfaces seared, including the sides if it is a thick cut of meat.
Grill to an internal temperature of 120-130F and allow to rest 5 minutes
Slice across the grain at an angle.
About GrillGrate 
GrillGrate LLC is based in Cartersville, GA. GrillGrates are manufactured in various lengths and shapes for all popular grills. GrillGrates improve the cooking performance of any grill, including gas grills, charcoal grills, kamado and pellet grills. GrillGrates are available at hardware, house-ware and outdoor retailers as well as at grillgrate.com. GrillGrates are proudly made in the USA. The GrateTool™ is made in China.