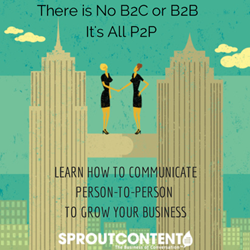 Being real will help you earn consumers' loyalty, position your brand as a thought leader and build stronger relationships with customers.
Denver, CO & Pensacola, FL (PRWEB) June 05, 2014
Businesses don't make decisions. People do. But business owners and marketers sometimes forget that and get caught up in "business speak," focusing only on promoting their products and services rather than letting their customers know how they can actually help them.
A new, free ebook just released by SPROUT Content, a content marketing agency, addresses this common problem and provides advice on doing business in a new way: person-to-person. There is No B2C or B2B – It's All P2P argues that no matter if a business is considered B2C or B2B, business owners and marketers need to market to their customers, who are real people with real world needs.
The ebook includes:

P2P success stories from a range of companies from major consumer brands to manufacturing companies
Key steps to becoming a true P2P brand
How to communicate more authentically and transparently
How to grow your business through content marketing
As an inbound marketing firm, SPROUT Content helps its clients tell an authentic and consistent story that leaves an indelible mark on their target market while meeting company goals and delivering results. Those stories are better told online using language people use in regular conversation, rather than boring business terminology. One of the suggestions in the ebook is for businesses to "Ditch the Jargon", which includes writing for real people rather than search engines.
"Words can help to paint an interesting picture of your business and show how you will help or improve the lives of your customers. The right words can help you carve out a unique space and make memorable connections with people," said SPROUT Content Co-founder Dechay Watts.
The ebook also addresses the need for businesses to be authentic and transparent in order to be successful today, which is also the topic of Watts' and SPROUT Content Co-founder Debbie Williams' book Brands in Glass Houses, published in late 2013. P2P brands communicate with their customers honestly in order to build trust.
"Being real will help earn consumers' loyalty, position your brand as a thought leader and build stronger relationships with customers. People are fed up with the inauthentic and just want the truth. For years, marketers and advertisers spun stories and told lies to people just for financial gain. Now, people expect more from the businesses they spend their (and their company's) money with," said Williams.
The ebook tackles a common problem that many businesses, especially B2B, face which is putting an interesting spin to what could be considered boring content. Just because your business is in what could be considered a dull industry, it doesn't mean the content has to put audiences to sleep. SPROUT Content's ebook provides examples of how to dig deep in a business' history and story to find interesting content that actually helps its customers. Businesses will get specific ways to "Break the Mold" and stand apart from the competition.
Download the ebook on SPROUT Content's website. For more information on how to make boring content interesting, join SPROUT Content for an upcoming webinar on Thursday, June 26, 2014 from 12 p.m.-1 p.m. EST.
About SPROUT Content
Dechay Watts is Chief Strategy Officer and Debbie Williams is Chief Content Officer, at SPROUT Content, a content marketing agency with locations in Pensacola, FL and Denver, CO. Watts and Williams are co-authors of the book Brands in Glass Houses: How to Embrace Transparency and Grow your Business through Content Marketing available for purchase at Amazon or Barnes & Noble. SPROUT Content is a certified HubSpot agency partner and winner of the 2013 HubSpot Partner award for annual website traffic growth.
Contact:
Andrea Miller
Content Marketing Manager
SPROUT Content
andrea(at)sproutcontent(dot)com
850-607-6981 ext 105
http://www.sproutcontent.com
@SPROUTContent
###