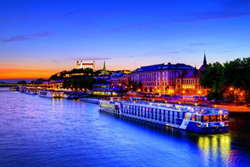 Discounts on luxury ships like these are rare.
Missoula, Montana (PRWEB) June 05, 2014
As a leader in worldwide travel, Adventure Life maintains strong partnerships with outstanding cruise operators. One of those operators is award-winning AmaWaterways which continues to lead the river cruise industry with a fleet of custom-designed vessels. The itineraries span the globe with trips in Europe, Russia, Asia and Africa. With innovative ship designs, spacious and stylish staterooms, premium amenities, exceptional cuisine and impeccable service, AmaWaterways sets new standards in river cruising year after year.
The cruise operator recently announced a discount of 5% off of any 2015 itinerary when booked by July 31st. Travelers can take advantage of this discount in multiple destinations around the world. Whether it's on the legendary waterways of Europe and Russia, the Mekong in Vietnam and Cambodia, the Ayeyarwady in Myanmar, or the Chobe River in Africa, discerning travelers will have the trip of a lifetime aboard an AmaWaterways river cruise. Prepare for a premium experience on these ships which offer comfortable lounges, lively bar areas, swimming pools or whirlpools, salons, fitness rooms, turn-down service, plush linens, and so many other features to pamper you.
"Discounts on luxury ships like these are rare," said general manager Jonathan Brunger. "This is a great opportunity for travelers interested in a variety of destinations, as AMAWaterways offers trips to Europe, Asia, Russia and Africa."
Current AMAWaterways cruise rates start at $1,899 per passenger. The discount of 5% off cruise fare can be applied to any 2015 departures when booked by July 31, 2014. To see the details of just of few of these trip options visit http://www.adventure-life.com/river-cruises.
To explore the world, visit http://www.adventure-life.com or call 800-344-6118.
About Adventure Life
Adventure Life is a company of travelers with a passion for sharing the world with others. Our travel experience runs deep, from years volunteering in rural Africa and Central America, to research trips in Asia, studying in Europe, guiding in the Rockies, and just bouncing around every corner of the world. This deep experience is the reason behind our pioneering approach to travel and award winning itineraries. For nearly fifteen years we have been creating personal itineraries that immerse our travelers in the vibrant colors of a place, leaving both our guests and hosts enriched by the experience. From our beginnings as a Latin America specialist, we now offer private journeys, small group tours, and expedition voyages throughout the world. We pride ourselves on our intimate knowledge of our destinations and our dedication to sharing the world.
Media Contact:
Sublime Public Relations
Steve Snyders
steve(at)sublimepub(dot)com
406-728-4180