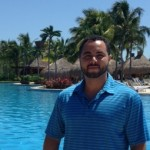 American Realty is extremely excited to have someone of Hamead's caliber join our team.
Playa del Carmen, Mexico (PRWEB) June 05, 2014
American Realty is excited to announce the signing of it newest broker Hamead Rashead. Hamead honed his craft in Real Estate on Vancouver Island, British Columbia before moving to Vancouver where he excelled in the world renowned affluent luxury market of West Vancouver with Remax Masters.
American Realty's founder Chris Rauton stated, "American Realty is extremely excited to have someone of Hamead's caliber join our team. Hamead's savvy negotiating skills and exceptional desire to succeed for his clients will no doubt be a tremendous asset in helping our clients make shrewd investments and achieving their dream of owning a piece of paradise."
A graduate from the University of British Columbia Sauder School of Business, Hamead spent his college years playing both college basketball and football as well as juggling his academic career. He knew very early that he wanted to be in Real Estate and furthered his education by excelling in the Real Estate Trading Services program before moving into the field full time.
Hamead has had a storied Real Estate career up to this point but fell in love with Playa Del Carmen after visiting several times over the past decade. "I will always cherish my time in beautiful British Columbia but I fell in love with the paradise effect of the Caribbean and just could not pass up this chance to join American Realty's outstanding organization. I'm grateful to Chris Rauton for this opportunity and am excited to be involved in this booming and drastically appreciating market." Hamead also emphasizes that several laws have long ago changed that make owning property in Mexico for North American buyers very easy and extremely beneficial with tax benefits. Having been with American Development for less than 3 weeks, Hamead has already brokered 3 accepted offers from his N. American network and is currently working on 4 more offers. The quality of product and robust value on the market are two factors that Hamead contributes to the early on success.
Hamead has also tried to make an impact in his community while volunteering for the Big Brothers and Sisters of Canada and served as General Manager and running back coach for the Vancouver Island Raiders in the Canadian Junior Football League where they won 3 National Championships and saw several players succeed onto the pros in Canadian Football League. While currently strengthening his Spanish and French skills, Hamead also speaks English and Arabic.
Hamead invites everyone to feel free to contact him any time as he looks forward to servicing all his clients with the utmost professionalism. To contact Hamead and view several listings, visit American Realty's website.