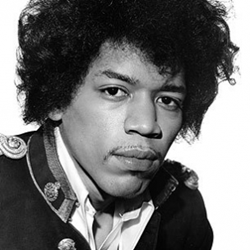 Getting approval from the Hendrix estate is an important step towards ensuring success of the film. We are not surprised it came down to a court battle. We see this often in cases of intestacy.
Boston, MA (PRWEB) June 04, 2014
A new Jimi Hendrix film featuring actor Anthony Mackie as the legendary musician and directed by Ol Parker is back on track after tumultuous litigation forced the project to be put on hiatus (1). This biographical movie is just one of a handful of film works that have run into problems with the Hendrix estate, which has seen major court action in the last few years. One such ongoing court battle is Experience Hendrix LLC v. The Last Experience Inc. et al., case number BC460695, in the Superior Court of California, County of Los Angeles.
In the history of rock and roll music, the late Jimi Hendrix is often cited as the greatest guitar performer and one of the most influential musicians of all time. Hendrix was musically active for less than 10 years, but he managed to build an amazing legacy that would lead to his induction in the Rock and Roll Hall of Fame. He sadly passed away under tragic circumstances in London at the age of 27 (2). Hendrix did not leave a will.
Fans of Hendrix and his amazing body of work will have a few chances to see his legacy on screen this year. The aforementioned, Parker-directed film is titled "Jimi," but there's also Blue Wild Angel, a specially engineered Blu-Ray Disc that features Hendrix performing live at the Isle of Wight in 1970, less than a month before he passed (3). Later this year, the film All Is By My Side starring Andre 3000 from the band Outkast will hit theaters; alas, this is a movie that will not feature any music written by Hendrix because his estate did not approve of such use (1).
Unlike All Is By Side, the film Jimi was able to obtain permission from the Hendrix estate to feature his music (1), but the important inclusion of his music required some legal wrangling (4). In the end, the Hendrix estate will have control over production of the film.
"Getting approval from the Hendrix estate is an important step towards ensuring success of the film. We are not surprised it came down to a court battle. We see this often in cases of intestacy," explains Rocco Beatrice of UltraTrust.com; he is the managing director of Estate Street Partners, an estate planning firm that specializes in wealth management and asset protection.
Intestacy is a legal practice that consists on the statutory disposition of an individual's property who passed without leaving instructions on how to handle his or her affairs. Exactly how much of an intestate decedent's assets will be distributed among surviving relatives, creditors and tax collectors is a decision made by probate divisions of state courts (5). This decision is driven by state legislation, and it is rarely commensurate with what the dearly departed may have hoped for.
"Intestacy tends to result in a mess," continues Mr. Beatrice, "Hendrix is hardly the only musician who left us without a will. We also know about Bob Marley, Janis Joplin, Amy Winehouse, Barry White, and many others. The problems are not limited to distribution of assets; these are successful musicians whose estates keep earning significant revenue long after they are no longer with us, and there are business and management issues to consider as well."
Mr. Beatrice expands on his opinion on the Hendrix estate: "The passing of Hendrix, like Joplin, was unexpected and tragic. It is very possible that creating wills did not cross his mind as he was busy dazzling us with his creativity and performance. Hendrix, in all likelihood, did not think about the legal battles that have been waged since the early 1970s over the rights to use his name, his image, his likeness, and his music. This protracted litigation often has a negative effect on the legacy of the artists when no music, films or literature can be released without having to enter a petition in court."
"Had Hendrix left a will, some probate issues may have been avoided, but not all;" explains Mr. Beatrice, "with successful musicians, athletes, business people, and wealthy individuals, we recommend irrevocable trusts as the ultimate legal instrument for estate planning. These instruments are very dynamic; they simultaneously provide asset protection, wealth management and estate planning features in perpetuity, which means that they remain in effect long after the grantor, the creator of the irrevocable trust, passes away."
Mr. Beatrice continues: "With an irrevocable trust, Hendrix could have assigned a musical rights management firm as a trustee to handle his affairs. He could have also assigned members of his family to receive benefits of his musical output in life and after passing. As the grantor, he could have left very specific instructions to his trustee as to how his image and likeness should have been managed insofar as to how he would have liked to appear on films, t-shirts, official biographies, musical compilations, etc."
In conclusion, Mr. Beatrice offers his opinion on the use of irrevocable trusts by musicians and other who hope to leave a lasting legacy: "Aside from lifetime and perpetual asset protection, irrevocable trusts help to reduce estate taxation so that survivors can get more of the assets; they are also effective as charitable planning tools. Best of all, irrevocable trusts have prevailed in many jurisdictions where they have been challenged by frivolous and dubious lawsuits. Many of the legal conflicts surrounding the intellectual property of the Hendrix estate could have been avoided with an irrevocable trust, and his fans would not have been delayed in enjoying films, reissues of his music, writings, and more."
About Estate Street Partners (UltraTrust.com):
For 30 years, Estate Street Partners has been helping clients protect assets from divorce and frivolous lawsuits while eliminating estate taxes and probate as well as ensuring superior Medicaid asset protection for both parents and children with their Premium UltraTrust® Irrevocable Trust. Call (888) 938-5872 to learn more.
#
Sources:
1. theguardian.com/music/2014/may/21/jimi-hendrix-film-anthony-mackie-ol-parker 5/21/14
2. jimihendrix.com/us/jimi 6/1/14
3. jimihendrix.com/us/news 6/1/14
4. cinemablend.com/new/Anthony-Mackie-Jimi-Hendrix-Upcoming-Biopic-43151.html 5/23/14
5. courts.alaska.gov/shc/probate/probate-intestacy.htm 6/1/14