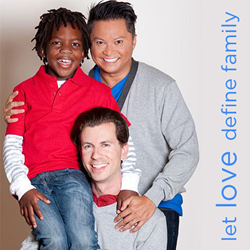 Los Angeles, CA (PRWEB) June 04, 2014
The Fourth Annual Gay Father's Day Celebration marks its fourth year at The Abbey Food & Bar in West Hollywood California on Sunday, June 15. The brunch buffet hosted by RaiseAChild.US will be followed by a free concert and festival at West Hollywood Park for all families and prospective parents. Other sponsors include Los Angeles County Department of Children and Family Services, the LGBT Center of Los Angeles, City of West Hollywood, Southern California Foster Family and Adoption Agency, and Penny Lane Centers.
The kid-friendly concert features the band La Sirena y Mar de Ashe. The fair will provide information and activities for parents and prospective parents and their kids. Admission is free. The park is located on San Vicente Boulevard, south of Santa Monica Boulevard, in West Hollywood.
The cost for the brunch is $19 for adults and $7 for kids. The Abbey Food & Bar is located at 692 North Robertson Boulevard in West Hollywood.
"We welcome all families and prospective parents to join our free festivities at West Hollywood Park," says Rich Valenza, Founder and CEO of RaiseAChild.US.
RaiseAChild.US is a nonprofit organization that encourages the LGBT community to build families through fostering and adoption to serve the needs of the 400,000 children in the U.S. foster care system. Among the services offered by RaiseAChild.US, its unique Parent Advocate Program provides information and ongoing support via phone or email to prospective parents as they move through the process from orientation and training to matching and placement.
According to the U.S. Department of Health & Human Services' Administration for Children & Families, there are 400,000 children in our nation's foster care system. More than 104,000 of these children are available and waiting to be adopted. Families certified for either foster or adoptive placements are in short supply.
RaiseAChild.US campaigns welcome and support prospective LGBT parents while putting images of LGBT families into public spaces through PSAs, print media, and outdoor advertising. Since 2011, RaiseAChild.US has engaged more than 2,000 prospective parents nationally and become a leading organization for public education and advocacy on behalf of the 400,000 children awaiting foster and adoptive homes.