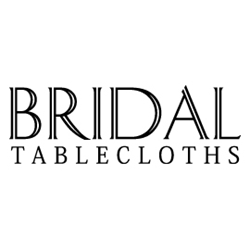 Within the textile world, there has to be a seller that's bride-centered or bridal industry-focused. - Arthur Mkrtchyan, co-owner of Bridal Tablecloths
Sun Valley, CA (PRWEB) June 05, 2014
Following its soft opening on April 30th, premier table linen retailer Bridal Tablecloths today announced that business activities at its warehousing and distribution facility in the Greater Los Angeles area in California are now fully operational.
Through its website http://www.BridalTablecloths.com, the linen company strategically positions itself as a global tablecloth supplier for the wedding industry, with countries United States and Canada as its focal points of business. Bridal Tablecloths stocks the full of range of professional grade wedding linens such as linen tablecloths, chair covers, cloth napkins, table skirts and specialty table linens.
"The wedding industry's growing demand for premium quality table linens inspired us to mount this business. Within the textile world, there has to be a reseller that's bride-centered or bridal industry-focused. While variety is a good thing, it is a totally different story when it comes to weddings. It's a detail-oriented arena on top of being high-fashion. This is why we designed our business to focus on the needs of the brides. Our extensive knowledge in wedding textiles and years of business management experiences allow us to provide unmatched client service and competitive prices," said Arthur Mkrtchyan, co-owner of Bridal Tablecloths.
According to Marketing Director Vahe Mailyan, the California-based tablecloth company has designed its website based on the buying patterns of event professionals and brides. "Aside from our very friendly shopping and visual navigation, our storefront's main design element is siloed after the four main things that our target market looks for when they are making purchases online. They can shop by material, by color, by shape and by size. Then there's the pre and post sales support that is a rare find in the wedding linen industry."
Mailyan also added that they've seen tremendous growth and following from the wedding industry since its soft opening. "We are thrilled to see the upward trajectory that our foray into the wedding scene has generated. It will be very exciting to see how the industry will deliver the full potential of this endeavor."
Mkrtchyan stressed that much of this success is primarily due to the emphasis they've given to the needs of the customers. Aside from wholesale price tags, Bridal Tablecloths offers free shipping on orders of over $99 value, if they are coming from the Contiguous United States. The linen company also accepts phone orders and provides a customer service help desk. Customers can call, email or chat with the company's customer care specialists.
Brides, event planners and banquet reception hall owners are welcome to contact the company:
By Phone: 855-273-7040
By Email: sales(at)bridaltablecloths(dot)com
Or visit their physical location: 9828 Glenoaks Blvd, Sun Valley, California 91352
Bridal Tablecloths also encourages its clients to connect with them on their social media pages:
Facebook: https://www.facebook.com/bridaltablecloths
Pinterest: http://www.pinterest.com/btablecloths/
LinkedIn: https://www.linkedin.com/company/bridal-tablecloths
Twitter: https://twitter.com/BTablecloths
About the company:
With distribution facilities and corporate headquarters in Sun Valley, California, Bridal Tablecloths owns the brand Bridal Tablecloths and website, BridalTablecloths.com .
Forward-looking statements:
This press release may contain certain statements that relate to future events and expectations and are forward-looking statements. Words such as "will be," "will," "would," "expect," "plan," "could," "should" or other similar words or expressions often identify forward-looking statements. All statements other than statements of historical fact are forward-looking statements, including, without limitation, statements regarding our outlook, projections, forecasts or trend descriptions. These statements do not guarantee future performance, and we do not undertake to update our forward-looking statements.