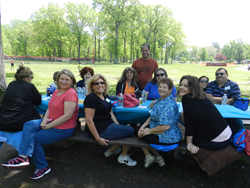 Cranford, NJ (PRWEB) June 05, 2014
More than 200 of New Jersey Bariatric Center's weight loss surgery patients and their families ate healthy BBQ foods, played games and shared their stories at Nomahagen Park in Union County for the New Jersey Bariatric Center Annual Family Picnic, a celebration of good health that illustrates the principles that fun doesn't have to focus on food and food can be healthy and still taste great.
New Jersey Bariatric Center has been holding its annual family picnic since 2006, and this year is celebrating the 10th anniversary of the practice that helps overweight and obese patients achieve a healthier weight and life through medical and surgical weight loss, such as Gastric Bypass, Gastric Sleeve and LAP-BAND surgeries.
"Between Memorial Day and Labor Day, most people will attend two or three barbecues where the centerpiece is always the food," said Dr. Ajay Goyal, founder of New Jersey Bariatric Center and director of Bariatric Surgery at Overlook Medical Center in Summit, NJ. "We teach our patients that once you have surgery, your relationship with food must change and so they need to make holidays about family, friends and fun. That's easier said than done, so we started this picnic to help them see it can be done."
That message came through loud and clear as patients twirled hula hoops, played ball with their kids and socialized with other weight loss surgery patients, doctors and staff. Many of the attendees also attend weight loss support groups together and get to know each other through the sharing of their weight loss surgery experiences, struggles and victories.
"It's great coming to New Jersey Bariatric Center events and talking with other people about your experiences," said New Jersey Bariatric Center patient Lola M., who had gastric sleeve in 2013 and lost almost 90 pounds. "The doctors, staff and other patients really become like our family."
The menu for the picnic also was made with the needs of weight loss surgery patients in mind, said New Jersey Bariatric Center dietitian Meagan Butler, RD.
"The grilled burgers and chicken breasts are all portioned to the right size for bariatric patients who have had their stomachs surgically altered so that it can only hold about 3 to 4 ounces of food at a time," Butler explained. "We have plenty of fresh grilled vegetables and salads. You won't see any chips or heavy mayonnaise-laden potato salads at our picnic but I don't think anyone is missing it!"
Weight loss surgery alters the digestive tract to aid obese patients in losing weight. It is considered the most effective means of controlling weight and resolving co-morbid conditions in obese patients, according to the Society of American Gastrointestinal and Endoscopic Surgeons. The National Institutes of Health (NIH) states that compared to other interventions, bariatric surgery, which includes the LAP-BAND, Gastric Bypass, Sleeve Gastrectomy (also known as Gastric Sleeve) produces the longest period of sustained weight loss.
New Jersey Bariatric Center surgeons call weight loss surgery a tool to assist in weight loss.
"Patients have to learn completely new eating habits," said New Jersey Bariatric Center surgeon Dr. Glenn Forrester, who is also director of Bariatric Surgery at Somerset Medical Center in Somerville, NJ. "Portion sizes are drastically reduced so patients fill up on a lot less food. Of course, sugary and high-fat foods – such as soda, juice and ice cream -- have to be avoided. When patients eat properly, they feel full longer so the desire to snack between meals is eliminated. Patients consume fewer calories and therefore lose weight."
"Not only do old eating habits have to change, but sedentary lifestyles have to change as well," Dr. Forrester explained. "Our patients who routinely engage in physical activities have the best long-term results. After their initial weight loss, many find enjoyment in exercise for the first time in their lives and dive into it in a way they never believed was possible."
It takes about 18 months for most patients to reach their goal weight, Dr. Goyal said. LAP-BAND patients can expect to lose between 50-60% of excess weight, with Gastric Bypass patients losing about 65-70% of excess weight and Gastric Sleeve patients losing an average of 55-65% of excess weight.
About New Jersey Bariatric Center
New Jersey Bariatric Center, a medical & surgical weight loss center with offices in Springfield, Somerset and Hoboken, New Jersey, helps patients achieve long-term weight loss success through the most advanced bariatric surgery procedures, including gastric sleeve, gastric bypass, LAP-BAND and REALIZE Band procedures. Led by the team of Drs. Ajay Goyal, Glenn Forrester and Angela Glasnapp and Leigh Montes, the New Jersey Bariatric Center's approach to patient care has resulted in zero mortalities and a complication rate that is lower than the national average. For more information about bariatric surgery, visit http://www.NJBariatricCenter.com.
Free monthly patient education seminars are held five times a month for individuals interested in learning more about weight loss surgery. To view dates or register for a seminar, visit http://www.njbariatriccenter.com/news-events/events/weight-loss-surgery-seminar or call 908-481-1270.