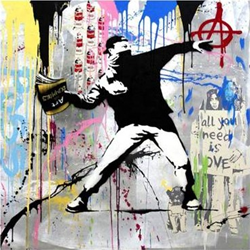 artnet Auctions is pleased to present Urban Jungle, a sale of diverse, multimedia works from leading Graffiti and Street artists
New York / Berlin (PRWEB) June 04, 2014
artnet Auctions is pleased to present Urban Jungle, a sale of diverse, multimedia works from leading Graffiti and Street artists, including Jean-Michel Basquiat, FAILE, Banksy, Swoon, KAWS, C215, SEEN, Mr. Brainwash, JonOne, Os Gemeos, D*Face, and Futura, with estimates ranging from US$1,500 to 80,000.
Included in the sale is Banksy Thrower Original (2014), a fresh, mixed-media and stencil work on canvas from the notorious Graffiti artist and videographer Thierry Guetta (French, b. 1966), a.k.a. Mr. Brainwash. Estimated at US$25,000 to 35,000, Banksy Thrower Original pays homage to his 2010 collaboration with Banksy (British, b. ca. 1974/1975) on the documentary Exit through the Gift Shop, which launched his career. Here, the artist adapts Banksy's well-known Flower Thrower figure, who is shown among other recognizable pop imagery, throwing a book titled Art for Dummies. Mr. Brainwash similarly appropriates an iconic image of Mickey Mouse, stenciled against a graffiti backdrop in Mickey Mouse (2013). Estimated at US$10,000 to 15,000, this vibrant, mixed-media work on paper further demonstrates the artist's Pop Art influences.
Another highlight of the Urban Jungle sale is KAWS's chromogenic print Untitled (US), estimated at US$10,000 to 15,000. Printed in 1996 at the start of his career, this early example of KAWS's photographs of his own work throughout New York City shows a phone booth at Astor Place that the artist manipulated with his distinctive x'ed out eyes and cross-bone caricatures. Here, KAWS captures the birth of the unique characters that helped catapult his career.
The sale also features dynamic, original works from Brooklyn-based artist collaboration FAILE. These works superbly demonstrate their unique style, which incorporates found imagery and collage techniques in diverse works that explore themes of mass media, pop culture, and art historical traditions. In Reach for Destiny (2010), FAILE assembles a unified composition through numerous wooden blocks, painted with appropriated imagery, which come together in a steel frame, estimated at US$25,000 to 35,000. Exhibited in the 2010 solo show Bedtime Stories at Perry Rubenstein Gallery, this vivid, monochromatic work expresses FAILE's fundamental concerns with system, form, and practice.
Additionally, Urban Jungle includes a number of unique works that showcase a range of styles and artists. One such example is a crayon on paper drawing, Untitled (1988), by iconic Street artist Jean-Michel Basquiat (American, 1960–1988), estimated at US$60,000 to 80,000. Executed in the last year of Basquiat's life, this black and red crayon drawing provides an excellent example of the artist's mature style, combining text, appropriated imagery, and personal symbolism to represent the evolution of his artistic career, from the streets of New York City to his role as a stylistic pioneer. Also on offer is an acrylic on wood portrait, Untitled (2013), by emerging artist C215 (French, b. 1973), estimated at US$5,000 to 8,000. Like Basquiat in the late 1970s and early 1980s, C215 draws creative inspiration from the city, producing vibrant and beautiful portraits based on the many colorful faces and characters of society's underground. Capturing the energy and beauty of the streets and its inhabitants, C215 is quickly becoming one of the most recognizable Street artists in the world.
Another highlight of the sale is The Other Side (2014) by Os Gêmeos (Brazilian, b.1974), estimated at US$8,000 to 12,000. The Brazilian twins' work often deals with social and political issues faced by the people in their hometown of São Paulo. Their characters are instantly recognizable, and have become more and more popular in recent years. In this work, their only print released to date, we see one of their classic, yellow-skinned characters coming through a concrete wall.
Urban Jungle is live on artnet Auctions from June 3 through 12, 2014, and is on view at http://www.artnet.com/auctions/search/?q=keyword-jungle_2014-category-all-artworks-active-auctions-only/&utm_campaign=pressrelease&utm_source=6314urban&utm_medium=link/.
•Register to bid on artnet Auctions: https://www.artnet.com/auctions/register-to-bid.
•View all lots: http://www.artnet.com/auctions/all-artworks/.
For more information about this sale, please contact artnet Auctions specialist:
Brittany Noris
Specialist, Post-War & Contemporary Art
+1-212-497-9700 ext. 131
bnoris(at)artnet(dot)com
Gracie Mansion
Senior Specialist, Post-War & Contemporary Art
+1-212-497-9700 ext. 494
gmansion(at)artnet(dot)com
About Us:
artnet is the leading online resource for the international art market. Established in 1989, artnet provides reliable information and market transparency to art collectors. With our comprehensive suite of products, artnet can empower anyone with a passion for art.
With 24/7 worldwide bidding, artnet Auctions & Private Sales is a dynamic marketplace for collecting art. Our online auction platform provides a unique collecting experience with seamless flow between consigners, specialists, and collectors. Our auctions and private sales community influences new collectors and inspires everyone to collect art.