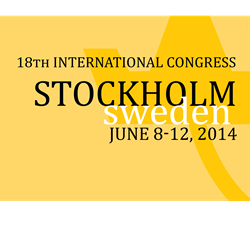 Stockholm (PRWEB) June 04, 2014
The world's leading experts in Parkinson's disease and Movement Disorders will present the latest research findings and state-of-the-art treatment options at the International Parkinson and Movement Disorder Society's 18th International Congress of Parkinson's Disease and Movement Disorders in Stockholm, June 8-12, 2014.
The 18th International Congress, held at Stockholmsmässan, will be attended by over 4,000 international physicians, researchers and other healthcare professionals. Attendees will be able to view over 1,600 scientific abstracts submitted by clinicians from over 80 countries. The International Congress Scientific Program consists of Plenary, Parallel, and Video Sessions, as well as Skills Workshops, Teaching Courses, and Guided Poster Tours.
Registration
Members of the media receive complimentary full-access registration to the Congress. For information on how to register, please contact Elizabeth Clausen at eclausen(at)movementdisorders(dot)org.
News Releases
News releases highlighting significant abstracts and late-breaking research being presented at the International Congress can be found on the MDS Congress website: http://www.mdscongress2014.org/press/news-releases.htm.
18th International Congress Information
The MDS Congress website contains all the information you need to prepare for
the meeting.

We look forward to seeing you in Stockholm!
About the International Parkinson and Movement Disorder Society:
The International Parkinson and Movement Disorder Society (MDS), an international society of over 4,500 clinicians, scientists, and other healthcare professionals, is dedicated to improving patient care through education and research. For more information about MDS, visit http://www.movementdisorders.org.