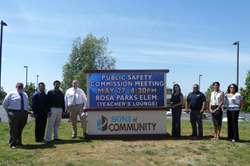 This unveiling marks the first step to a better informed and invested community...
Ontario, CA (PRWEB) June 04, 2014
Signs of Community (SOC) is a nonprofit organization that helps city and school districts set up outdoor community announcement centers to better inform the community of events, updates, and alerts with the mission of greater awareness and community involvement. SOC started developing their program last year and refining the details through many helpful discussions with local city officials and school districts. After introducing the concept to Bill Newberry, VP of the Board of Education for Corona Norco Unified School District, he made it his mission along with SOC to make the City of Eastvale in California the first city to showcase a real demonstration in their community.
"I feel this is going to be a great program for both the city and it's schools," stated Bill Newberry.
Clara Barton Elementary School was chosen to be the pilot site for SOC's first Community Announcement Center. SOC provided and installed the new Announcement Center on the school grounds in a prime viewing location for the community. The Announcement Center displayed the latest news and sports within the community along with local school updates. SOC also added some fun with messages like 'Fun Facts', "Did you know every time you lick a stamp, you consume 1/10 of a calorie?" and 'Word of the Day' messages which were a hit with the school staff. Interactive messages like these keep the community engaged in viewing the Announcement Center while also reading important event and news updates with the ultimate goal of overall awareness and involvement.
The Announcement Centers also displayed Community Sponsors and neighboring businesses, like Nutrishop of Eastvale and ACC Telephone Systems, who get prime exposure throughout the community and on the SOC website in recognition for their generous support.
"This unveiling marks the first step to a better informed and invested community for the city of Eastvale. I couldn't be prouder of the SOC team and all the people in Eastvale that made this possible." Ivan Perez, Project Director at Signs of Community.
Sign of Community is a 501(c)(3) nonprofit organization. Get involved and learn more at http://www.signsofcommunity.org.