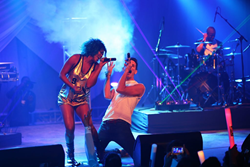 Gabe and Erin are very special to us...We are very happy Gabe could share the stage with us...especially around their anniversary.
Bridgetown, Barbados (PRWEB) June 04, 2014
Fans of Barbadian alternative hip hop band NexCyx got the surprise of their lives in the early hours of June 1 when Cobra Starship frontman, Gabe Saporta, joined the group onstage during their summer kickoff concert, NeXperience.
Saporta, who married designer Erin Fetherston in Barbados last year, thrilled the shocked audience with his chart topping hits Good Girls Go Bad and You Make Me Feel.
The celebrity couple, in Barbados celebrating their first wedding anniversary, met the band there on the night of their engagement and invited them to play at their Martha Stewart featured nuptials last May. They were so impressed by NexCyx's performance, Saporta decided to return the favor for the band's biggest show to date.
"Gabe and Erin are very special to us," said Kris Clarke, bassist and NexCyx band leader. "We were very happy that Gabe was able to share the stage with us for NeXperience, especially around their anniversary."
Hundreds of patrons inside the converted warehouse on the grounds of cricket stadium Kensington Oval partied with the band for over two hours, enjoying a set of original favorites like Eternal Summer and In Da Club, and featured performances by some of the island's best talent including Livvi Franc, Teff, Simon Pipe, Arturo Tappin and Rochelle Griffith.
Saporta told the audience he loves Barbados and was amazed by the amount of talent he had seen on stage that night. His high-energy, fifteen minute performance was punctuated with screams of delight, especially during an impromptu push-up competition with keyboardist André Clarke.
About NexCyx
NexCyx is a five-member alternative hip-hop band based in Barbados. The group has shared the stage with Angie Stone, Erykah Badu, Air Supply, Damien Marley and Wyclef Jean and has played major music events in the Caribbean, US and Europe. Chosen in 2012 by an international judging panel as the winners of the "Hennessy Chase the Music; Own the Stage" competition, the band went on to get the top spot in the RyanSeacrest.com March Music Madness contest for their version of Maroon 5's "Moves Like Jagger" in 2013. NexCyx holds an MTV Artist of the Week accolade, an Artist of the Month title from Rockwired.com and a Band of the Year honor at the noted Barbados Music Awards.