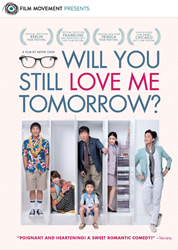 An unabashed audience pleaser!
New York, NY (PRWEB) June 04, 2014
Film Movement, the distributor of award-winning independent and foreign films, announces today that Will You Still Love Me Tomorrow?, the infectiously delightful second feature film from rising-star filmmaker Arvin Chen (Au Revoir Taipei), will be released on DVD on July 8th in North America.
Will You Still Love Me Tomorrow? is the delightful story of self-discovery that defies the clichés of romantic comedies and tackles the dilemmas of modern relationships in every variation. Winner of the inaugural Gold Q Hugo Film Award at the 2013 Chicago Film Festival, Will You Still Love Me Tomorrow? premiered at the 2013 Berlin International Film Festival and went on to screen at Frameline, Tribeca, Traverse City and Seattle LGBT film festivals, followed by a successful theatrical release in January of this year.
In this madcap and lighthearted comedic romp, introverted optometrist Weichung begins to question his marriage with his wife Feng upon learning of her desire to have another baby. At his sister's engagement party, Weichung bumps into an old friend, Stephen, a wedding photographer who, though also married, is living the high life of a younger, single gay man. When Stephen teases Weichung for his newly straight-laced lifestyle, dormant emotions are awakened in Weichung, setting him off on a quest for true romance and desire.
Available on DVD on July 8th at FilmMovement.com, Amazon.com and other retailers, Will You Still Love Me Tomorrow? on DVD includes short film MEI, an early film by Arvin Chen. Will You Still Love Me Tomorrow? will also available on digital platforms including Amazon Instant on July 8th, and comes to Netflix streaming on August 7th.
###
About Film Movement:
Launched in 2003, Film Movement is a full-service North American distributor of award-winning independent and foreign films, based in New York City. Film Movement has released more than 250 feature films and shorts from 50 countries on six continents, including top prize winners from Sundance, Cannes, Venice, Toronto, Berlin, Tribeca and other prestigious festivals. Film Movement releases its films through numerous distribution channels, including thousands of art-house cinemas, universities and libraries; home video; television outlets; Cable Video on Demand (including its very own branded cable VOD platform—Film Festival on Demand—available in over 40 million US homes); In-flight Entertainment and broadband outlets. In late 2013, Film Movement launched RAM Releasing, a genre label to distribute thriller, suspense and noir films across all platforms. For more information, please visit http://www.filmmovement.com. For more information, visit filmmovement.com.