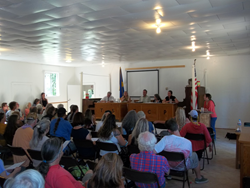 This is the moment ... It's the time to step up and put money in and work in a strategic way.
Laytonville, CA (PRWEB) June 04, 2014
Mendocino County's cannabis cultivators, businesses and advocates unified on Tuesday and moved to create a cannabis lobbying coalition.
More than 100 people came to the training meeting at the Laytonville Grange Hall to hear from a panel of experts on cannabis activism. By the end of the meeting, a seven-person leadership team had been nominated to form the cannabis coalition.
California Cannabis Voice Director Matt Kumin and Secretary Terrance Alan took part in the panel, along with Kristin Nevedal of Emerald Growers Association, Pebbles Trippet of Coalition Mendocino, and lobbyist Julia Correra. Kumin and others urged the crowd to unify now so they have can have their voices heard.
"This is the moment. We're up here, chatting about how we're going to unify and it's fantastic and we're going to do that," Kumin said. "But the time for talk has kind of ended and it's time for putting your money where your mouth is, as I said last time. It's the time to step up and put money in and work in a strategic way."
One member of the audience added to Kumin's call to contribute to the coalition.
"Will you give a pound to the cause?" he asked the crowd. "We'll either take your money or we'll take a pound. Because if we can't sell that pound, we don't belong here." The crowd laughed
The urgency stems from the recent unanimous support of Senator Lou Correa's SB 1262 in the state Senate and the failure of Senator Tom Ammiano's AB 1894 in the Assembly. SB 1262 would regulate cannabis businesses through a state licensing program and place more regulatory control at the city and county levels than the Ammiano bill would have.
All the panelists agreed that SB 1262 would be amended and passed by the end of the year, and they urged the crowd to unify at the county level so they have a voice in local policy decisions after the bill passes.
"It's time to engage in the political process," moderator and local journalist Kerry Reynolds said at the meeting.
The 12 guiding principles California Cannabis Voice put forward for fair and reasonable regulation and licensing were supported by many of the new coalition's founding members as a guideline for what good local regulation will include. All the panelists offered their expertise and knowledge to help the new coalition get off the ground.
"We're going to go legal. Our only hope as small farms is to unify." said Tim Blake, organizer of The Emerald Cup and one of the nominated leaders for the coalition.
California Cannabis Voice has future activism trainings planned in other counties and is available for other communities that want help unifying their cannabis business communities, including cultivators, manufacturers, dispensaries and more. Donations made to the PAC can be kept locally to support community efforts or can be put toward having a voice at the state level as legislators review SB 1262. The California Cannabis Action Educational Foundation, Inc. a 501(c) 4 also exists for community to activate for education and outreach.
About California Cannabis Voice:
The mission of California Cannabis Voice is to identify, educate and unite stakeholders whose lives are impacted by medical cannabis to support the passage of fair and reasonable regulations. By working with stakeholders, even those traditionally opposed to marijuana, a bill can be crafted that fills in the gaps of Proposition 215 and provides a solid foundation for future legislation. Doing so will empower communities and protect business owners and patients. Sign up for the CCV newsletter to keep up to date.