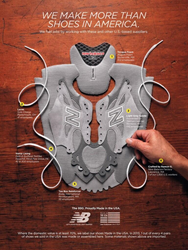 We can manufacture in the U.S., affordably, with high quality. That's why Bixby is still here.
Newburyport, MA (PRWEB) June 05, 2014
In a recently launched campaign by New Balance to enforce its message of their support for U.S. manufacturing, Bixby International, along with five other U.S. vendors, were highlighted as vendors benefiting from New Balance's domestic manufacturing efforts.
This campaign aligns nicely with the recent news that the Boston-based brand will supply sneakers to military recruits as soon as next year following a Department of Defense policy change. Hear President Dan Rocconi, in the video below, explain how Bixby assists New Balance in the quest to produce a 100%, all-American shoe.
The company does note that when its domestic value is at least 70%, it will label the shoes "Made in the USA," meaning some materials are still in fact imported.
Bixby International Corporation is a custom thermoplastic sheet extruder and laminator offering one of the broadest polymer material and substrate selections in the industry. Now on its second century of manufacturing in the USA, the company specializes in delivering practical solutions for the most challenging mono- and multi-layer plastic sheet applications in the world. Bixby leverages their core competencies of material, process, and application expertise to meet the most demanding design, engineering and manufacturing challenges of their customers in markets ranging from agriculture to energy and mining to medical devices. Call today at 978-462-4100 and see how we can work together on your next project.