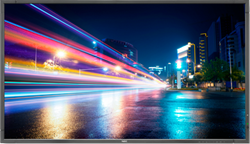 Our newest addition combines size and interactivity at 70 inches with as many as 32 points of touch.
Austin, TX (PRWEB) June 04, 2014
TouchSystems continues to respond to customer needs with the introduction of a 70-inch screen. The screen, based on the NEC P703, is integrated with infrared and is available as a multi-touch (six, 12 or 32 touch points) solution.
Carol Nordin, president of TouchSystems, says, "Our retail, hospitality and education customers have expressed interest in touch screens exceeding 55 inches. As larger screens become more popular, the opportunities for interactivity using multi-touch technologies increase as well. Our newest addition combines size and interactivity at 70 inches with as many as 32 points of touch."
The P7080I-U3 is designed for 24/7 use with durable, commercial-grade components complemented by LED-backlighting, a full HD panel and a 4000:1 contrast ratio. It features built-in speakers and expanded connectivity with digital loop-through. The P703 generation of displays represents a full chassis upgrade over the previous generation, with support for the Open Pluggable Specification (OPS), the addition of a second expansion slot, faster processing times, evolved daisy chain performance and near field communication capabilities (for setup and servicing only). It can be mounted in a landscape or portrait orientation.
The P7080I-U3 display is available through TouchSystems' distribution partners. Customers can also contact TouchSystems to create a custom solution based on the P7080I-U3, such as an all-in-one computing solution including an integrated single-board computer (OPS) and a wall mount.
Since 1996, TouchSystems has been a pioneer in display enhancement technologies. TouchSystems works with customers to create innovative solutions such as desktop touch monitors, interactive digital signage, all-in-one systems, kiosks, and industrial controls and peripherals. TouchSystems is based in Hutto, Texas and is a certified woman- and minority-owned small business. For more information, call (512) 846-2424 or visit http://www.touchsystems.com. TouchSystems also can be followed on Twitter at http://twitter.com/Touch_Systems.