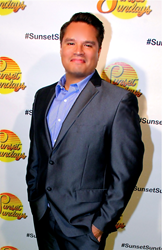 "Rythm Is Life And Life Is Rythm"
Los Angeles, CA. (PRWEB) June 10, 2014
Orion Music Production, http://www.orionmusicproduction.com, one of Los Angeles' premier DJs, celebrates its 15 year anniversary throughout the wedding season by investing in more equipment. The business will be adding more Alto professional speakers, intelligent sound- active lighting, which includes more lasers and expanding its music library from around the world.
Orion Music Production was founded in 1999 by DJ Orion and after much hard work within the wedding industry, has become one of the most sought after DJ services in the L.A. area. Company spokesman Jake Leyva says, "What makes us stand out from the rest is our attention to detail. Plus, we are continuing to grow with all sorts of new services, including photo booths, solo musicians, bands, up lighting and much more."
Orion Music Production is featured on Wedding.com and The Knot.com. According to TheKnot.com, most weddings happen between the months of June-October. With wedding season in full swing, couples are getting ready for the weddings all over the country. With all the new equipment and vendors added to Orion Music Production, the company will keep up with the latest wedding trends.
Even during the busy season, Orion Music Production will donate time to provide DJ services to The American Cancer Society "Relay For Life" events and other charitable events. Having a larger selection of equipment, Orion Music Production is able to take on large scale events and provide it with quality service.
About DJ Orion and Orion Music Production
DJ Orion has worked with some of the best event planners and venues throughout Los Angeles. His style is elegance, finesse, and the perfect amount of edge. His knowledge of music is vast and his emcee skills are second to none. No doubt, he is one of the best in the business and it's the reason why the word keeps spreading.
To learn more about DJ Orion and his new services visit his website at http://www.orionmusicproduction.com
Orion Music Production
Contact: "DJ Orion"
C: 310-266-0913
Los Angeles, Ca.
http://www.orionmusicproduction.com