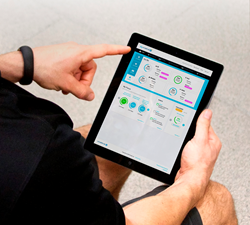 MyViverae enhances our client and member experience and promotes flexibility in our wellness program designs.
Dallas, Texas (PRWEB) June 04, 2014
Viverae, a leader in health management, has launched its latest innovation, MyViverae, an enhanced version of its signature wellness technology platform.
Through the website, Viverae's health management program members can gain secure access to their health profile, complete their Member Health Assessment questionnaire, view their Biometric Screening results, and become educated on a variety of health topics.
New features in MyViverae include:

A personalized homepage and member experience
Seamless integration with many of today's most popular mobile apps and fitness tracking devices
Health challenges that allow members to enjoy friendly competition among their peers and earn points toward their program incentive
Individual health priorities selected by the member based on fitness, nutrition, lifestyle or vital metrics
Simple event sign-up for Biometric Screenings and other company events
Helpful reminders to complete actions, like signing up for events and upcoming challenges, featured prominently on the homepage and listed under the "Take Action" section
Viverae has been carefully testing MyViverae over the last few months prior to its launch to ensure the best possible user experience. Over the next year, MyViverae will continue to evolve with added features and enhancements.
"We keep a close watch on innovators in every industry, so Viverae can get a jumpstart on technology that will make healthy choices easier and more convenient for our members and provide validated data to our clients," said Michael Nadeau, founder and CEO of Viverae. "MyViverae enhances our client and member experience and promotes flexibility in our wellness program designs."
See more about MyViverae by watching the video at http://www.viverae.com/myviverae.
###
About Viverae
Founded in 2003, Viverae (viv-AIR-ā) is a national leader in health management solutions based in Dallas. Viverae provides partners a platform for tying health behaviors to health insurance premiums, and supports members with the tools and resources needed to create a healthy lifestyle. Viverae's solutions are a unique combination of comprehensive health assessments, employee incentives, creative engagement strategies, and proprietary software to manage client programs from beginning to end. All of Viverae's health management programs adhere to the requirements set forth in the Affordable Care Act and other applicable law. To learn more, visit http://www.viverae.com.