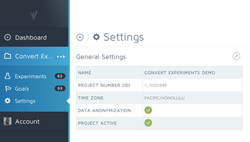 Walnut, California (PRWEB) June 05, 2014
Convert.com, the leading A/B testing software for retailers and agencies, is proud to announce a range of privacy updates to their infrastructure to prevent spying on A/B tests that are performed by our clients. Our goal is to prevent clients' data being publicly visible and exposed as recently published on VentureBeat.
Today, Convert.com opens its A/B testing tool's new "Data Anonymization" feature. This feature is available to all clients from the small business plans of $9, to the enterprise plans at no additional cost. The feature also allows to hide test specifics that allow spies to see privacy sensitive data to identify interesting tests run by clients.
"Convert.com is focused on privacy for it's clients. Since we started way back in August of 2009 as one of the first A/B testing tools with a visual editor, we already implemented privacy features at the level of current European regulations. These regulations are strict in IP storage and targeting clients. We decided at the start of the company that privacy was important and that we would never allow IP storing and IP targeting, for example," said Dennis van der Heijden, CEO and one of the two founders of Convert.com.
Data Anonymization is a highly recommended new feature for all Convert.com's users. The feature improves privacy by removing naming of all projects, variations, segments and goals for the JavaScript stored on Convert.com's secure CDN infrastructure.
Convert Experiments, the testing software of Convert.com will undergo even more improvements to ensure privacy over the next week. They will be "removing all paused variations of running, and completed experiments will give little to no insights into what variations were competing against each-other. We will be turning on the Data Anonymization option on by default for all clients over the next weeks," according to Van der Heijden.
According to Van der Heijden, "Convert Experiments stores variations and targeting of A/B tests on the secure CDN's. We never publish paused, draft or archived experiments to prevent spying on our clients' accounts. In addition, Convert changes the code script for clients, making it harder to identify Convert clients' using scrapers now used.
Brian Massey, Conversion Scientist at Conversion Science and author of "Your Customer Creation Equation," is one of the leading authorities in the field of Conversion Rate Optimization (CRO). As a user of Convert.com, he shared his opinion on recent events: "Slow-executing tests make our results less reliable. Sending all test data at once offers an important speed improvement. We believe that Convert Experiments has come up with the best solution that balances the quickness we need without exposing our work to casual spies."
Kelcey Parker another US agency using Convert.com says: "As an agency (Nitro Interactive Marketing) with clients of all sizes, from small shops to Fortune 500 companies, it's incredibly important for us to keep our testing practices private and secure. When experimenting with elements like layouts, images, copy, or pricing, we don't want competitors to see what we're up to. Convert.com is already a very secure platform, and they're adding even more protections in response to recent events. We'll stick with Convert.com."