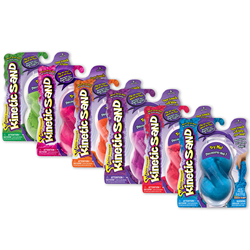 'Kinetic Sand lends itself to hours of play as it never dries out,' says Michael Bianco, President, Activities Division at Spin Master. 'Plus kids love it, because it looks and feels just like beach sand and mom's love it because it doesn't make a mess.'
Toronto, ON (PRWEB) June 04, 2014
Spin Master Ltd., Canada's largest children's toy and entertainment company, is bringing the look and feel of the beach to your home with the global launch of Kinetic Sand™, an amazing compound of 98% sand and 2% magic.
Under its new activities line, Wackytivities™, Kinetic Sand is the squeezable sand where you can feel the fun. Unlike anything you have ever felt before, Kinetic Sand is kinetic – meaning it sticks to itself and not to you. Allowing for endless play as it oozes, moves and melts right before your eyes. Kinetic Sand flows through your fingers like a slow-moving liquid, but leaves them completely dry. Additionally, Kinetic Sand never dries out, letting you shape anything you want over and over again and it is a wheat, gluten and casein free product. This soft and stretchy sand easily cleans up while delivering non-stop fun.
"We are thrilled to launch Kinetic Sand through our Wackytivities line. Kinetic Sand lends itself to hours of play as it never dries out," says Michael Bianco, President, Activities Division at Spin Master. "Plus kids love it, because it looks and feels just like beach sand and mom's love it because it doesn't make a mess."
Wackytivities™ Kinetic Sand™ Pack Natural Brown:
The Wackytivities Kinetic Sand Pack comes with 2lbs of Natural Brown Kinetic Sand.
Wackytivities™ Kinetic Sand™ Beach Box Set™:
The Wackytivities Kinetic Sand Beach Box Set comes with four molds so you can easily create a sand castle, a seahorse a turtle and a fish. It also comes with your very own sand box and 1lb of Kinetic Sand so you can bring all of the fun of the beach home with you.
Wackytivities™ Kinetic Sand™ Neon Hourglass™:
The Wackytivities Kinetic Sand Neon Hourglass comes with 6oz of neon Kinetic Sand and a resealable container. Shape anything you want in your favorite color.
In order to ensure that Kinetic Sand reaches consumers everywhere, Spin Master has joined forces with WABA Fun (WF). Spin Master will distribute Kinetic Sand globally at all Mass Market, Mid Tier, High End and Specialty retailers. WF will distribute Kinetic Sand to the Educational, Medical, Industrial, Therapeutic, Home Party, Catalogue and Art Sculpting channels. Specialty chains under 10 stores may be serviced by both organizations, with Spin Master providing its full range of goods and WF providing product in package sizes greater than 5 pounds.
For additional information, please check out our website, http://www.spinmaster.com