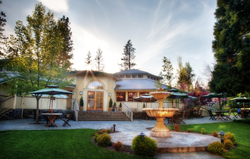 Nevada City, CA (PRWEB) June 11, 2014
Ananda Yoga Therapy Training, a program of the Ananda School of Yoga & Meditation, is one of the first yoga therapy programs to ever be accredited. The International Association of Yoga Therapists just announced the first programs accredited at their annual conference SYTAR. Ananda Yoga Therapy Training was one of only 12 programs approved; 10 in the US and 2 internationally.
Accrediting programs to train yoga therapists will help bring yoga therapy into the prevalent medical model, including that doctors will be able to refer patients directly to professionally trained and certified yoga therapists.
Mangala Loper-Powers, the Director of Ananda Yoga Therapy Training said: "We are delighted to have been included in the first group of schools accredited after the intensive process of application and review by the IAYT. We look forward to providing excellent training for yoga therapists of the future."
The Ananda School of Yoga & Meditation has operated at The Expanding Light Retreat in Northern California for 28 years. Professional trainings include Ananda Yoga Therapy Training (requiring over 800 hours), Ananda Yoga Teacher Training 200 and 500 hours, Ananda Meditation Teacher Training, Restorative Yoga Teacher Training and Spiritual Counseling Training. The school has been delivering yoga therapy training since 2011. The Ananda School provides spiritually-oriented, non-denominational training based on the deep traditional yogic practices of Paramhansa Yogananda. Yogananda was the renowned author of "Autobiography of a Yogi."
The IAYT champions yoga as a healing art and science. The non-profit association supports research and education in yoga, and serves professional yoga therapists worldwide. The accreditation standards provide guidelines of integrity and transparency for accredited schools. The accreditation competency-based educational standards focus on training requirements for yoga therapists. They define the foundational knowledge and skills required for the safe and effective practice of yoga therapy.