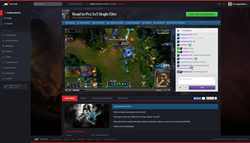 Pioneering awesome tools for gamers has always been in Xfire's DNA.
Santa Monica, CA (PRWEB) June 04, 2014
Xfire™ is launching its market-leading eSports platform to gaming communities and publishers. Xfire layers competitive features on top of the world's most popular games. The first game supported is Riot Games' record-breaking eSports title, League of Legends. With its technology, Xfire will now allow any player to quickly and easily create high-quality tournaments for League of Legends and other popular games. Over 100,000 gamers registered during Xfire's closed beta phase. This includes 3,500 competitors playing in the largest League of Legends amateur tournament in the Western Hemisphere, which attracted over 300,000 stream viewers.
Xfire's service is specifically designed to power the activities of eSports participants and viewers (nearly 71 million and growing in Western markets). It provides dozens of features for eSports organizers to host and promote their tournaments, such as custom branding, player/team management, and stream integration. The platform is free, web-based software that works for any game and is compatible with Xfire's downloadable social client. Registration is now open at http://www.xfire.com.
The company also announced that Matt Marcou will join its executive team as VP of Marketing. Marcou has over 12 years of experience in the eSports industry with companies like EA and SteelSeries. He is most noted for creating the eSports program at Riot Games and designing the League of Legends Championship Series (LCS).
"eSports is now a leading interest for gamers and its value to publishers is undeniable," said Marcou, Xfire's VP, Marketing. "I'm thrilled to join Xfire and build a platform that will bring great eSports experiences to more gamers."
"Pioneering awesome tools for gamers has always been in Xfire's DNA," said Mark Donovan, CEO, Xfire. "We feel that with our team's extensive experience in the eSports industry and our software platform, we have the potential to drive the next phase of growth in competitive gaming. The feedback we've received from the eSports community and publishers has validated our efforts."
"Having a dedicated place to manage our branded tournaments is immensely useful for our business," said Michael O'Dell, owner of Team Dignitas. "We are thrilled to have found a solution in the Xfire tournament platform."
With the open beta also comes a commitment to global support and continuous updates. Xfire will localize the platform for new territories and develop an embeddable version of the platform so that eSports communities can bring the Xfire experience to their own websites.
Representatives from Xfire will be at the Electronic Entertainment Expo to demonstrate the tournament platform to publishers and developers interested in learning more about eSports. Press and developer inquiries can be sent to press(at)xfire(dot)com.
About Xfire:
Xfire provides the world's most advanced eSports platform. In addition to connecting 24 million global gamers through the Xfire social client, Xfire now gives eSports organizers, brands, and publishers the tools they need to easily create and manage their own tournaments around the games they love. Xfire's investors include Intel Capital and Tomorrow Ventures. Xfire is headquartered in Santa Monica, California.