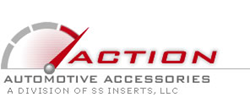 Mustang billet grille kits now available with complimentary shipping from Action Auto Accessories at http://actionautoaccessories.com.
(PRWEB) June 03, 2014
Action Auto Accessories is now offering free shipping on their complete line of aftermarket parts and accessories including the popular Mustang Billet Grilles. Action Automotive specializes in Mustang Grille Kits and Billet Grilles, and their Grilles are guaranteed to bring any Mustang's front end to life.
Everyone loves a sharp looking Mustang and the Grilles at Action Auto Accessories will improve the look of every vehicle, and get plenty of attention in the process.
Drivers will feel like the king of the road with a billet grille kit from Action Auto Accessories.
The Billet Grilles currently available at Action Auto Accessories are made of strong billet aluminum and polished to a high gloss shine that is designed to last for several years.
All of the hardware is included and is very simple to install.
Whether drivers wish to enhance or delete their fog lights and honey comb, Billet Grilles from Action Auto Accessories will do the trick every time and they are far from "cheap and flimsy" like the grilles that are sold by many of their competitors.
Action Auto Accessories is the industry leader in Mustang Grille Kits and Billet Grilles… They have everything from upper and lower billet grilles, polished billet taillight grilles, overlay grilles, fog light bezels, phantom grilles, etc.
In most cases, the popular billet grille design simply bolts over the existing OEM plastic grille. The good news is, this method does not require drilling or cutting of the OEM grille shell. Hidden bolts, brackets and clamps are used for this simple installation, making it a piece of cake to improve the appearance of your Ford Mustang.
For more information about Action Auto Accessories, please visit their website at http://www.actionautoaccessories.com or give them a call at (480) 668-6212.