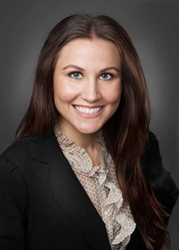 Ms. Rogers joins 11 other advisors at Mission Wealth who also have their master's or other advanced degrees.
Santa Barbara, CA (PRWEB) June 04, 2014
Mission Wealth, a nationally recognized wealth management firm, is pleased to announce that Client Advisor Jenna Rogers, CFP® has earned the Master of Science in personal financial planning degree from the College for Financial Planning.
The master's in personal financial planning degree program prepares graduates to advise their clients on a wide spectrum of financial needs. Course topics include advanced pension and estate planning, financial planning, executive compensation, business and personal tax planning, security analysis and portfolio management, and financial statement analysis. Candidates for the degree must successfully complete 36 credits of study. The curriculum is based on a client-centered, problem-solving method using case studies to give students a hands-on approach.
Ms. Rogers joins 11 other advisors at Mission Wealth who also have their master's or other advanced degrees.
As a financial advisor, Ms. Rogers is intimately acquainted with the specific goals and financial lives of clients and delivers customized financial planning, cash flow planning and risk management solutions to assist in their goal achievement. She has knowledge and experience working with the financial goals of young families, divorcees and self-employed business owners. Ms. Rogers earned a Bachelor of Science degree in business administration with an emphasis in financial services from California State University Channel Islands. Ms. Rogers joined Mission Wealth's client service team in 2008 and is a CERTIFIED FINANCIAL PLANNER™ (CFP®).
About Mission Wealth
Mission Wealth was founded on a vision to empower affluent families to pursue their financial dreams. When built, they saw a demand for something different from what other financial services firms were providing. To meet this demand, Mission Wealth was founded on the principles of objective advice, proactive financial planning, and coordination with other professional advisors, including accountants, attorneys, and bankers. Mission Wealth does not sell any internal products; therefore, the recommendations they make are solely in the client's best interests. Their client-centric planning process acknowledges clients and their needs to keep them on track and provide peace of mind. Mission Wealth's team coordinates with professional advisors to ensure effective integration of all financial decisions. For more information on Mission Wealth, please visit http://www.missionwealth.com.
Mission Wealth is a Registered Investment Adviser. This document is solely for informational purposes, no investments are recommended. Advisory services are only offered to clients or prospective clients where Mission Wealth and its representatives are properly licensed or exempt from licensure. Past performance is no guarantee of future returns. Investing involves risk and possible loss of principal capital. No advice may be rendered by Mission Wealth unless a client service agreement is in place.