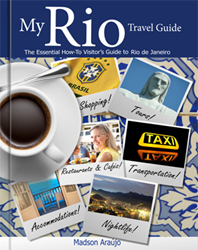 A comprehensive insider's guidebook to Rio de Janeiro
(PRWEB) June 10, 2014
Madson Araujo is proud to announce that his comprehensive travel guidebook, "My Rio Travel Guide," is now available for purchase. The ten chapter book includes everything a traveler needs to know about adventuring in Rio de Janeiro.
Throughout the 112-page guidebook, Araujo provides an immense amount of information which will allow any tourist to enjoy the splendors of Rio de Janeiro. The book includes useful information about recreational activities in Rio de Janeiro, including suggestions for shopping, restaurant recommendations, and a guide to the local music scene. The book also contains a detailed guide about how to travel safely to Rio de Janeiro, where to find the best hotels/hostels, and where to go on the best self-guided taxi, walking, or bike tours in order to absorb the rich culture of Rio de Janeiro.
"Rio de Janeiro is a city unlike any other in the world, which is why anyone who visits this vibrant city will fall in love with everything they see and experience here," said Araujo. "After serving as a tour guide for 10 years, I wanted to share the best and brightest of my favorite city, including hot spots, unique cultural spots and sites, amazing restaurants and great self-guided tours."
A resident of Copacabana, Rio de Janeiro, which is located near the places and services Araujo reviews, he spent an entire year compiling his tips and recommendations for "My Rio Travel Guide."
"When I'm giving tours, tourists always want to know about the best local restaurants, where to see a fun samba show and what little-known attractions to visit. This new guidebook contains all of this information and more and I will continually update it to offer the latest and greatest on everything Rio," Araujo added.
About the Author
Working as a private tour guide since 2004, Madson Araujo has guided over 4,500 visitors to Rio de Janeiro, to include solo travelers, couples, families, and small groups of friends. He has travelled to more than 25 countries, including having lived in Venezuela, France, Italy, Denmark, and Sweden. He has also been featured on BBC Radio (live interview), Lonely Planet, National Geographic, France 3 (French National TV), and Thai TBS (Thai National TV).
"My Rio Travel Guide" can be downloaded here: http://www.myriotravelguide.com/travel-guide-to-rio-de-janeiro/
Araujo's other book, "Christ the Redeemer Statue: a Comprehensive Guidebook" can be downloaded at this link: http://www.myriotravelguide.com/christ-the-redeemer-corcovado-rio-de-janeiro-brazil-travel-guide/
For more information, please visit the website at http://www.myriotravelguide.com/
Contact:
Madson Araujo
0055 21 99395-3537
Madson(at)tourguiderio(dot)com