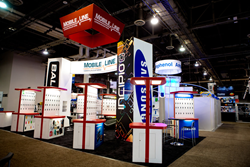 Las Vegas, NV (PRWEB) June 04, 2014
Beginning Tuesday September 9th and running through Thursday, September 11th, 2014 – 40,000 visitors will descend upon Las Vegas for Super Mobility Week. Super Mobility Week powered by CTIA is North America's largest forum for the mobile innovations that power your connected life and it definitely deserves a spot on your trade show calendar.
Thousands of mobile professionals and executives, over 1,100 exhibitors, and 1,000 media and analysts from around the world will come together in September for this unbelievable, week-long technology event in Las Vegas to experience unequaled networking opportunities and inner-communicate cutting edge trends, innovations and intelligence.
As an exhibit builder Absolute Exhibits will once again be fabricating everything from custom exhibits rentals to system exhibit rentals for clients from the United States and around the world including the United Kingdom, Norway, Germany, and Korea. Many thousands of brands are represented at the show from small startups to the big players. Keynote speakers include chairmen and CEO's from AT&T, Verizon, and Sprint.
This move to one show in 2014 will serve as the trade show for all companies within the wireless ecosystem, from carriers to device manufacturers to network operators to those who create content, apps and devices for healthcare, education, transportation, financial and other industries. This is the new world of trade shows that the Absolute Exhibits team has observed in virtually every industry – massive content, one time a year, to allow exhibitors to spend their money far more wisely on the trade show floor and attendees to shop and compare the length and breadth of their industry platform.
About Absolute Exhibits:
Absolute Exhibits, established in 2000, rents and sells large custom exhibits at over 300 shows in the USA and in countries around the world. Absolute Exhibits is dedicated to providing distinctive marketing settings as well as pre-and-post show and, event marketing and support services for our clients. At Absolute Exhibits every aspect of the exhibition project is handled using in-house resources and every question is answered in-house as well. Absolute Exhibits is a true one-source exhibit house.