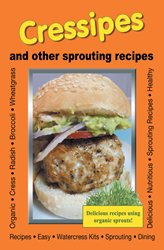 Easy-to-follow recipes, complete with ingredient lists and photos, make cooking a breeze.
Lee's Summit, Mo. (PRWEB) June 05, 2014
Sprouts provide a healthy and nutritious punch to daily dining when incorporated into recipes. That's the premise behind this new cookbook that stars such ingredients as watercress, radish, alfalfa and broccoli sprouts, as well as wheatgrass. These tasty recipes using organic sprouts feature everything from breakfast foods to appetizers, sandwiches, soups, salads, entrees, beverages and desserts, providing ways to boost nutrition without sacrificing taste. In fact, the nutritious power of watercress, for instance, is so powerful it must be diluted when transformed into juice, the book notes.
"Cressipes and Other Sprouting Recipes" begins with instructions for cooks to grow their own sprouts from cress, alfalfa, broccoli and radish seeds. Easy-to-follow recipes, complete with ingredient lists and photos make cooking a breeze. Savory cheesecake dip with mixed sprouts incorporates sour cream, feta cheese, spinach and mixed sprouts. A broccoli and cheddar soup with sprouts offers a tasty way to pair broccoli crowns with broccoli sprouts, while stuffed turkey sliders features a surprise inside: fontina cheese and minced broccoli sprouts tucked in a small turkey burger.
Several varieties of pizza make the cut, as do recipes for chicken and pork. Radish sprouts enhance a homemade chicken breakfast sausage, and vegetarians will find plenty of options such as potato pancakes, spicy eggplant with mixed sprouts, and warm broccolini salad. Those with a bit of a sweet tooth can try buttermilk lemon cress muffins, chocolate wheatgrass ice cream, sweet cress fudge and even cake pops featuring German chocolate made with cress sprout juice.
Author Linda Fisher has been CEO of Watercress Kits, which makes hydroponic sprouting kits, for more than seven years. She lives in Lee's Summit. Katherine Fisher is co-author of the book.
----------
For additional information, please visit http://www.sproutingrecipebook.com.
Cressipes and Other Sprouting Recipes
Linda Fisher with Katherine Fisher
Dog Ear Publishing
ISBN: 978-1-4575-1705-1 76 pages $15.95 US
Available at Ingram, Amazon.com, Barnes & Noble and fine bookstores everywhere.
About Dog Ear Publishing, LLC
Dog Ear Publishing offers completely customized self-publishing services for independent authors. We provide cost-effective, fast, and highly profitable services to publish and distribute independently published books. Our book publishing and distribution services reach worldwide. Dog Ear authors retain all rights and complete creative control throughout the entire self-publishing process. Self-publishing services are available globally at http://www.dogearpublishing.net and from our offices in Indianapolis.
Dog Ear Publishing – self-publishing that actually makes sense.