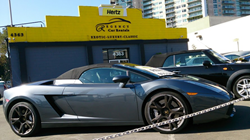 ...gift ideas for Father's Day have grown a little stale over the years – ties, aftershave, and belts are gifts of a bygone era – but experiential gifts are in
Los Angeles, CA (PRWEB) June 04, 2014
Regency Car Rentals (regencycarrentals.com), Los Angeles' premier exotic, luxury and classic car rental company, wants to help stop the boring gifts dads have been getting for decades and get deserving fathers a gift they will never forget. They can experience all 550 horsepower of a new Audi R8 or feel the wind blow through whatever hair they have left driving with the top down in the Lamborghini Gallardo LP560.
Father's Day is a day intended to honor the men that raise their children, and is an excellent time to surprise fathers with gifts or celebrations to let them know how special they are to their families. Unfortunately, gift ideas for Father's Day have grown a little stale over the years – ties, aftershave, and belts are gifts of a bygone era – but experiential gifts are in, and Regency Car Rentals has a unique experience for Dads of all ages.
Several psychological studies have indicated that people tend to value, and place more happiness, in experiences rather than things. With that in mind, Regency Car Rentals is launching their Father's Day promotion to help deliver fathers that perfect vehicular experience. For the month of June, the dedicated staff at Regency would like to extend a special offer in celebration of Father's Day, 10-20% off of select exotic car rentals for your dad.
Regency Car Rentals stock includes a variety of luxury and exotic car rentals so fathers can take to the road in style. Vehicles range from high end, luxury vehicles such as Bentley, Mercedes, and vintage Rolls Royce models, to performance vehicles like Ferrari and Lamborghini. These vehicles are designed with performance and luxury in mind and are perfect to bring a smile and a shot of adrenaline to surprised fathers with almost any budget. "We believe in providing high-end luxury experiences at affordable prices, so that anyone can enjoy the best life has to offer," says Regency General Manager Israel Castillo. They hope to see many fathers on the road in the month of June, sharing their unique experience with their families.
About Regency Car Rentals
Regency Car Rentals is a leading car rental service in Southern California renting luxury and exotic cars, sedans, SUVs, and sports cars to the public, as well as standard car rentals with their affiliate Hertz Rent-a-Car. Regency also provides chauffer, concierge and limousine services. To get a quote on rentals or services, call 1-800-847-6493.