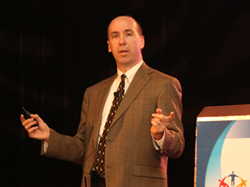 If you are wondering what the first step you need to take in order to prepare for the future, it is this: Become aware of what's already here today!
Milwaukee, WI (PRWEB) June 04, 2014
The Racine County Economic Development Corporation (RCEDC) is celebrating 31 years of providing Wisconsin based businesses with a variety of services necessary to complete an expansion, relocation, financing, or workforce development project. The RCEDC is committed to meeting the needs of Racine County, Wisconsin businesses and companies interested in expanding or locating in the Chicago-Milwaukee Corridor. To that end they have invited internationally renowned guest speaker futurist Jack Uldrich to speak to them on the topic of future-proofing at their anniversary celebration.
As one highly invested in teaching business leaders about new trends, Uldrich pulls out all the stops and tells it like it is: "Welcome to the future," says Uldrich. "It has arrived and it's going to kick you if you don't wake up to the fact that these advances are poised to change and disrupt virtually every industry."
Uldrich is a frequent speaker on the technology, change management and leadership lecture circuits, and has addressed numerous businesses, trade associations and investment groups around the world including the Verizon Wireless Connected Technology Tour, PepsiCo, and United HealthCare. He is also a guest commentator on James Woods "Futurescape" and is a frequent guest on CNBC, MSNBC and CNN.
Parties interested in learning more about Jack Uldrich, his books, his daily blog or his speaking availability are encouraged to visit his website at: http://www.jumpthecurve.net. Media wishing to know more about the event or interviewing Jack can contact Amy Tomczyk at (651) 343.0660.