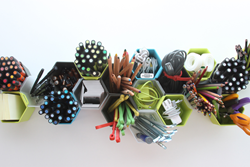 "HYVE is an opportunity for us to develop something that is relevant to everybody in our own lives; our kids, spouses, families, friends, colleagues and coworkers, we offer something for everyone," says Herbst.
San Francisco, CA (PRWEB) June 05, 2014
HYVE, a modular storage and organizational platform, is now available for pre-order on Kickstarter. A response to our common struggle to stay organized as we accumulate "things" in our lives, HYVE is a toolkit that offers a solution for everyone. Inspired by nature and perfected through months of design and engineering, the modular system uses hexagonal geometry with a locking feature to replicate the organizational structure of the beehive. HYVE grows as individual elements that are locked on to one another, making the system customizable by the user and able to fit virtually any space.
HYVE's vision is led by award-winning industrial designer Scot Herbst, a San Francisco-based product designer and son of design industry legend Walter Herbst. Herbst won this year's Edison Award for for design and innovation.
HYVE is intended to be used by everybody, in a variety of settings. "HYVE is an opportunity for us to develop something that is relevant to everybody in our own lives; our kids, spouses, families, friends, colleagues and coworkers, we offer something for everyone," says Herbst, co-founder and Creative Director at design studio Herbst Produkt. Of the studio's first effort on the crowdfunding platform, Herbst comments, "We typically work on projects that satisfy a defined 'target' market such as our work in consumer electronics or furniture, but we really wanted this to be all-inclusive and share the experience with everyone around us. HYVE solves a common need that we all share, and Kickstarter embodies the inclusive spirit that HYVE represents."
Presented with a bold color palette, the interlocking architecture merges form and function seamlessly. The system is uniquely new and different because of three characteristics:
Configurable – a hexagonal geometry allows HYVE to be arranged to fit any space
Locking – the integrated 'Quick-Clip' snaps allow HYVE elements to snap together
Scalable - HYVE elements can be infinitely added to the system
Combining these features creates a flexible format that allows for HYVE to integrate into any environment, from the home to the office. Based on use and feedback from testers, the design team has proven HYVE to fill needs in places such as the kitchen, dining room, bathroom, playroom, craft room, garage, workshop, studio and office. Beyond its versatile organization, HYVE elements also make great décor and planters.
Amazed by the effortless ability of the hexagonal shapes to work across such a broad range of uses, Herbst and his team discovered the system was equally dynamic when it lived vertically on the wall. Today the system offers two additional accessories that maximize this vertical functionality throughout the home, office and even the classroom. HYVE Wall Planks are a set of natural birchwood mounts that can be configured in numerous ways. Each HYVE element simply snaps onto a hidden slot and encourages customizing to the users vision. Together with HYVE Magnetic Mounts, the elements can also live on a vertical metal surface and can function as small, color popping magnets on a whiteboard or refrigerator, where the shapes double as a receiver that the HYVE elements can lock onto.
"To really promote its use as a tool for everyone, we needed it to be accessible, and in multiples, so keeping costs low was a critical design objective," comments Herbst. The offering begins with an opening pledge price of $15 (plus an additional $4 for US shipping) for a nested set of three. Featuring names such as the Pollinator Pack and the Colony to celebrate the product's honeybee heritage, pledge options include multiple sets as well as Wall Planks and Magnet Mounts.
To further pay tribute to the honeycomb-inspired geometry of HYVE, the campaign is supporting the health of bee pollinator colonies in partnership with Life Lab, the renowned organic farm and outdoor classroom at the University of California Santa Cruz (http://www.lifelab.org).
About Herbst Produkt
The coalescence of a design heritage born from Swedish simplicity and German refinement, Herbst brings a signature ethos of over 50 years of expertise to design and product development. Helmed by industry leading designers Walter and Scot Herbst the team catalyzes a potent mixture of art and science in product creation.
The studio's award winning work is crafted from a multi-disciplinary approach that spans industries ranging from technology to housewares, hardware, furniture, lifestyle and fashion. Clients include Logitech, The Home Depot, Clorox, Crate & Barrel, CB2 along with numerous midsize and entrepreneurial ventures.