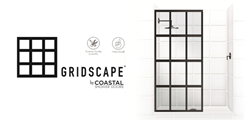 Consumers were dying for something new, and this windowpane design is really a game-changer.
Jacksonville, FL (PRWEB) June 04, 2014
At the forefront of interior design trends, GRIDSCAPE™ by Coastal Shower Doors [Patent(s) Pending] leads the way introducing transitional / modern fashion for your shower and bathroom.
GRIDSCAPE™ brings bold modern flair to your bath with an oil-rubbed bronze "windowpane" style shower enclosure as the focal-point. Unlike other shower doors, such as Coastal's Paragon Soft-Close Frameless series that have been designed to be seamless and blend in with the bathroom, the GRIDSCAPE™ Series will stand apart as a design element all of its own.
The GRIDSCAPE™ Series is available in four configurations, a hinged shower door system, a stand-alone fixed shower panel, a sliding shower door, and even folding partitions for use in outdoor shower applications. A rust-proof anodized aluminum finish guarantees the beauty of the product will last. As with all Coastal products, the design of GRIDSCAPE™ provides simple adjustments that allow for easy and quick installation.
For additional images and more information about GRIDSCAPE™ by Coastal Shower Doors, visit Coastal Shower Doors' Pinterest Board or email info(at)coastalind(dot)com. To peruse Coastal's other collections, visit http://www.coastalind.com.
About Coastal Shower Doors:
Coastal Shower Doors was founded in 1972 with the mission to create the industry's finest bath and shower enclosures. Located since its inception in Jacksonville, Florida, Coastal's manufacturing operation is housed in the most advanced and efficient bath enclosure production facility in the world. The 250,000-square-foot, state-of-the-art facility employs more than 200 professionals making it the largest shower door manufacturing facility in the USA. Additional distribution centers are located in Atlanta, Houston and Charlotte.- (http://www.coastalind.com)
"Let's Shower Together" - #LETSSHOWERTOGETHER