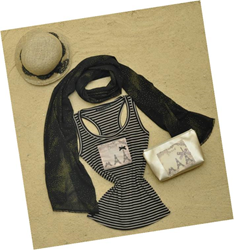 I had always been fascinated with old lace, fabrics, old photographs, old images and etching
Los Gatos, California (PRWEB) June 04, 2014
American women have now access to the successful Marcel & Cendrillon collections of chic women's tops and scarves.
The name Marcel & Cendrillon of the French retro-glam-rock brand intrigues with Marcel- a rugged and masculine side and Cendrillon-elegant, sophisticated, and without a doubt always classy and in style. Opposites definitely attract in the name Marcel & Cendrillon, chosen by the designer for the uniqueness of combining the contrasting emotions each name gives, representing her brand and designs of scarves, tops and pouches for women.
Cendrillon is the French word for Cinderella; Marcel is a retro name popular in the 1920's in France, and symbolizing a rough man.
One of hottest brands in France, sold in over 450 boutiques is now available in the US through Frenchitude.net.
The summer 2014 collection evokes memories of "Les beaux jours", the good old days, reminiscent of seaside resorts in the 1920's (but sexier).
Tank tops with a twist: flattering cuts, beautiful retro appliques and even a few small bows here and there to sassy it up.
Silky polka dot tunic which can be worn over jeans or as a mini dress with the sash. Ooh la la c'est chic!
The scarves are equally irresistible.
The glamorous woman will love the Victoria Linen blend and sequin scarf.
The Melina linen striped scarf will seduce the women who prefer retro and vintage. The elegant woman who swears by the Parisian chic style will gravitate towards the Monica striped scarf.
Make up bags and pouches are available in soft gold and black. Each pouch has a different appliqué, with a revisited retro style.
French women loyal to the brand wear their pieces year after year. Indeed, quality never goes out of style! Designed in France and Made in Europe, each item is made from the highest quality materials.
Discover a lot more and see the entire collection at http://www.frenchitude.net
Marcel & Cendrillion's fashion accessories and women clothes are designed by Madeleine Morelli in Orange, France.
The collection is distributed in USA exclusively through Frenchitude. For wholesale inquiries contact us at orders(at)frenchitude(dot)net.
Retail prices range from $39 to $79.
Frenchitude.net, a new e-commerce company based in Los Gatos, California offers women fashion accessories from French designers, made with authenticity and quality craftsmanship.
Contact
Isabelle Ciacchella
Tel: (408)-621-8589
Email: isabelle(at)frenchitude(dot)net