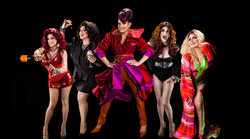 We want your jaw to drop
Santa Ana, California (PRWEB) June 04, 2014
Las Vegas glamour, divas and fun have an unsuspecting new home in Orange County, the most conservative region on the west coast, with an outrageous drag show at the trendy Velvet Lounge.
Located next to the Ronald Regan Federal Courthouse in the historic downtown Santa Ana, Velvet Lounge has announced it is mounting a professionally produced nightly dinner-theatre style drag extravaganza. "LIPSTICK & LASHES" will be hosted by television star and female illusionist, Shannel, whom is also the Show Director. Fans will recognize this outrageous entertainer from RuPaul's hit shows "Drag Race", "All-Star Drag Race", "Drag-U" and having toured the world, even gracing the stage as a host of DIVAS Las Vegas, billed as "The World's Biggest and Most Outrageous Drag Show".
Velvet Lounge Owner and Producer, Zach Moos says "Honestly, you simply have to see it to believe it! This truly is a professionally produced, theatrical dinner-show, unlike anything else out there. We want your jaw to drop, and make you laugh and cheer 'til you cry!" With a theatrical background and having made a name for Velvet Lounge with their four sold-out infamous weekly drag brunches, Moos has experience. "Expect sparkle, feathers, incredible costumes, comedy, impersonations, sexy backup dancers... and lashes for days", Moos says.
Bringing big names to the table, show choreographer, Mic Thompson has impressive credits. Performing with Michael Jackson as a principle dancer from 1993-2002 on stage and screen, his career is now spent choreographing live shows including Disney's TARZAN, the TANGLED Stage Show, Las Vegas productions and more. "If you want to be truly entertained, this is the show for you. It is simply the best!" says Mic.
Although one can usually find a weekly drag show at your local gay bar, Shannel contends, "This isn't your run-of-the-mill drag show. Expect amazing production and performances that cannot be seen anywhere else, where the audience is part of the show... making it a truly memorable moment. Plus you'll enjoy a delicious dinner, in an intimate atmosphere where you really get up-close, and personal, with the stars of this show." She continues "These girls (men) really work hard to entertain you, I'm so proud of each and every one!"
The show's producers explain there will be new shows developed throughout the year, with a variety a fabulous themes. Whether you're looking for a unique date, a girls-night-out, birthday party, bridal party or planning a celebration of any kind; this is one night you will never forget. "Everyone is welcome, and made to feel comfortable" says Moos, who continues, "We've hosted many celebrities, as well as stars from "The Real Housewives of OC", the entire "Raiderettes", and more. You can always expect the unexpected at Velvet Lounge."
Lipstick & Lashes opens on Friday, June 6. The show runs every Wednesday through Sunday at 7pm and 9pm, and includes a 3-course dinner. Velvet Lounge is located at 416 W 4th St, in Santa Ana California, 92701. You can visit the show's website at http://www.DinnerAndDrag.com or call 714-232-8727 for information and tickets.
Velvet Lounge opened in 2011, and is Orange County's premier gay owned and operated restaurant and nightclub.