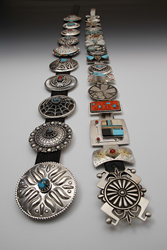 Santa Fe, NM (PRWEB) June 04, 2014
"After two weeks of receiving booth payments, the Southwestern Association for Indian Arts is happy to report that, as anticipated, we are at capacity for the normal number of booths and artists," stated Interim Chief Operating Officer Dallin Maybee. This year's Indian Market is going to be just as spectacular as years past. Booth payments started coming in earlier this year. The number of artist donations for the Live Auction Gala has increased as well, not only in number but also in their size and actual value. Many award-winning artists have generously answered the call to support our great event and the non-profit organization that produces it. Donations include paintings, pottery, sculptures, jewelry, two magnificent belts and amazing cases for each belt. This will make the Gala an event to remember. Tickets and tables to the gala have sold ahead of schedule, but there are still both of each available.
In addition to the Live and Silent Auction Gala, SWAIA is planning many events like the Smithsonian's NMAI Native Cinema Showcase, a book-signing, live music, screenings of Class X winners, the Best of Show awards presentation, preview of the award-winning art, receptions, the State of the Arts Symposium and much more which will fill the days and evenings throughout Indian Market Week. Thank you to everyone who believes in the Santa Fe Indian Market and your dedication in making it a stellar year of art, events and community. The SWAIA staff and board members look forward to celebrating the best in Native Arts and the opportunity to once again share that art and cultural expression with the world.
About SWAIA Santa Fe Indian Market
The Santa Fe Indian Market exists to provide a platform for established and aspiring Native/Indigenous artists to nurture and sell the art they create.
Contact: John Paul Rangel, PhD, Director of PR & Marketing, SWAIA, 505.983.5220, jprangel(at)swaia(dot)org