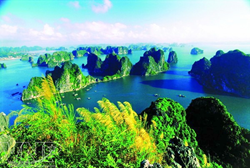 Hanoi, Vietnam (PRWEB) June 05, 2014
Smile Travel Vietnam agency was founded in 2008 and provides tour packages as well as the Vietnam visa service for travelers. With summer in sight and holidays being planned, Smile Travel Vietnam is offering summer packages at low rates of up to 30% off, including many free services.
Travelers can book a 4-day package for only US$ 335. From the Hilton Opera 5-star hotel in Ha Noi, guests will explore Ha Long Bay (Quang Ninh Province) - a World Heritage site, recognized by UNESCO for its natural beauty, with nearly two thousands limestone peaks soaring from its crystal clear emerald waters. Travelers will enjoy super deals on overnight luxury traditional vessels (Deluxe Halong Bay cruise) with extra offers such as free airport transfers, sauna steam bath, and kayak use.
Ha Long Bay is located in Quang Ninh Province in the northeast of Vietnam. It is the home of 1,000 small and large islands, excluding unknown islands, that presents a spectacular seascape. The islands were created in various sizes and shapes. In one place, if looking from afar, the islands appear to be on top of each other. In other places, some islands are divided into two cliffs, opposite each other, with a small rivulet between them. Others stand horizontally and vertically for dozens of kilometers that create many layers like a firm wall.
In summer, Ha Long has a spectacular beauty thanks to creepers, wild plants and orchids in bloom. The winds from the ocean bring the mainland cool air. In the very early mornings when the morning star still shines on the peak of Bai Tho (Poem) Mountain, many tourists are on Bai Chay Beach to enjoy the fresh air and behold the landscape at sunrise. When the sunlight spreads over the Bay with strips of colors, the shading of the islands of different shapes and forms are reflected on the water. At that time boats with white and brown sails like butterflies from many estuaries pass through the forest of limestone islands towards the bustling harbor.
Surely, with a healthy marine environment, a diverse ecosystem and many beautiful attractions together with the titles it has achieved, Ha Long Bay is becoming an interesting tourist site attracting an increasing number of domestic and international visitors.
It's the perfect opportunity for travelers to enjoy summer in style at a range of exciting and inspiring locations throughout Vietnam.
For more details, please contact at: sales(at)smiletravelvietnam(dot)com or call 84 976 127 023.