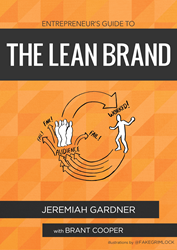 Pre-orders really give you a chance to discover who is most passionate about your book.
(PRWEB) June 12, 2014
There was a time when publishers were responsible for marketing a book. Authors are feeling the shift in marketing responsibility moving from the publisher to themselves.
When Jeremiah Gardner and Brant Cooper, bestselling author of The Lean Entrepreneur, decided to release their new book, The Lean Brand, they went straight to their readers with Publishizer, a crowd-publishing platform.
"These days, people aren't going to support you simply based on an idea. You have to go out and prove your concept and prove the argument you're trying to make with your book. That's where crowd publishing is critical," says Gardner.
Jeremiah built up a mailing list of over 25,000 subscribers before launching the preorders campaign. Strategies included hosting Lean Branding workshops, giving talks at SXSW, appearing on podcasts and sharing free digital resources.
"Getting people to cross the penny-threshold is hard. You can't just launch a campaign and sit back and wait for the orders to come in. Instead, you have to be building relationships with your audience for months before you go live."
The Lean Brand launched on Publishizer and hit $3000 on it's first day, and has successfully sold over $18,000 in preorders so far. The campaign has funded 145% of it's $12,500 goal, which ensures the book will be professionally edited, designed and printed as a limited edition hardcover.
"Pre-orders really give you a chance to discover who is most passionate about your book. That insight alone is worth all the hard work that goes into running a successful campaign."
Will The Lean Brand become a #1 bestseller in Amazon? They're definitely on track.
The Lean Brand is currently available to preorder as an ebook and hardcover on Publishizer at http://www.publishizer.com/the-lean-brand.