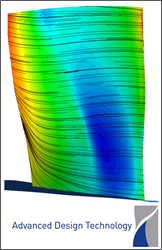 Turbomachinery design optimization based on 3D inverse design provide the best means to explore larger areas of the design space and achieve higher performances
LONDON (PRWEB) June 09, 2014
Advanced Design Technology, Ltd. (ADT), a global leader in the development of advanced turbomachinery design methods and the TURBOdesign Suite, will exhibit in Booth 505 at the American Society of Mechanical Engineers (ASME) Turbo Expo 2014 June 16-20 at the CCD Congress Center Düsseldorf, Germany.
ADT will demonstrate the TURBOdesign Suite and its three-dimensional (3D) inverse design optimization capabilities for superior turbomachinery performances. Design engineers and original equipment manufacturers can benefit by shortening development times and improving components efficiency using the TURBOdesign Suite and ADT's engineering design services.
According to conference organizers, the ASME Turbomachinery Conference is recognized as the must attend event for turbomachinery professionals. The technical conference has a well-earned reputation for bringing together the best and brightest experts from around the world to share the latest in turbine technology, research and development, and application in the following topic areas: gas turbines, steam turbines, wind turbines, fans & blowers, solar brayton & rankine cycle and supercritical CO2. The 3-day exhibition attracts the industry's leading professionals and key decision makers, whose innovation and expertise are helping to shape the future of the turbomachinery industry.
At this year conference ADT's representatives will present three technical publications highlighting recent developments in turbomachinery design, analysis and optimization:

On Monday, June 16, 2014 at 08:00 AM: Technical Paper GT2014-26813: Aerodynamic and Aeroacoustic Optimization of a Transonic Centrifugal Compressor
On Wednesday, June 18, 2014 at 14:30 PM: Technical Paper GT2014-26976: A Robust Mixing Plane Method and its Application in 3D Inverse Design of Transonic Turbine Stages
On Friday, June 20, 2014 at 14:30 PM: Technical Paper GT2014-26961: 3D Multi-Disciplinary Inverse Design Based Optimization of a Centrifugal Compressor Impeller.
"Maturing efficiency levels across turbomachinery applications force OEMs and design engineers to work outside their comfort zone and explore new areas of the design space while strict requirements for components performance, noise and reliability levels at multiple operating conditions, require multi-objective and multi-disciplinary optimization approaches." says Mehrdad Zangeneh, founder and managing director of ADT "Turbomachinery design optimization based on 3D inverse design provide the best means to explore larger areas of the design space and couple aerodynamic, structural and aero-acoustic disciplines in the optimization process within timeframe compatible with industrial development schedules and costs."
ADT engineers and representatives will be at Booth 505 to demonstrate the TURBOdesign Suite and show design engineers and turbomachinery manufacturers how to optimize preliminary designs as well as improve knowledge transfer between projects and design teams while significantly reducing design time and attaining higher performance and noise reduction.
Visit ADT during the ASME Turbo Expo 2014, contact us at +44 (0)20 7299 1170 or go to the company website to arrange a demonstration of unique 3D design and analysis codes.
About the TURBOdesign Suite - System Requirements, Availability and Pricing
ADT's TURBOdesign Suite is a unique aerodynamic and hydrodynamic 3D design software package that allows users to design, analyze and optimize all types of turbomachinery, such as axial, mixed-flow or centrifugal pumps, compressors, fans, turbines and torque converters. Using the software, designers evaluate turbomachinery package size and performance predictions; perform detailed 3D blade design with 3D inverse design capabilities; analyze flow information per component; stage performances with turbomachinery specific 3D computational fluid dynamics (CFD); and automate exploration of the design space with automatic optimization capabilities. Fast development of customized design is, therefore, made possible.
TURBOdesign Suite runs on Windows systems. It operates on mid-range workstations with 2.4 Ghz or better processors, 2 GB RAM and 1Gb disk space.
The TURBOdesign Suite is now shipping. It is sold in modules starting from $15,000 USD with software training and technical support included.
About Advanced Design Technology
Advanced Design Technology (ADT) is a global leader in the development of advanced turbomachinery design methods, which helps not only to shorten development time but also to improve the performance of turbomachinery components. ADT's aim is to put designers in direct control of the aerodynamic design and to shorten, considerably, the design time and time to market for a range of turbomachinery products. ADT's clients, who represent some of the leading global players in the aerospace, automotive, power generation and marine fields, have achieved significant returns on investment in terms of reduction in design times, higher performance and ease of know-how transfer among different design teams and projects. For more information, call +44 (0) 20 7299 1170 or go to: http://www.adtechnology.co.uk.