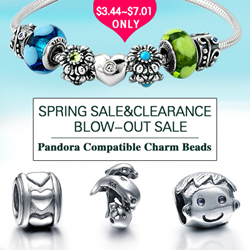 Pandora Compatible Charms From $3.99; Free Sterling Silver Bracelet On Orders of $100+
(PRWEB) June 04, 2014
Recently, Shealia Jewelry, a long-time online retailer of fashion jewelry, has proudly announced its summer sale, offering big discounts on its Pandora compatible charms. According to the sales manager of Shealia Jewelry, the promotion is valid until June 30, 2014 only.
The jewelry from Shealia shop, especially sterling silver charms and beads, cover a wide range of choices, including different styles and patterns. These fashion gadgets sell well in the market and have greatly stimulated Shealia Jewelry's business growth in the past few years. With a great reputation for premium quality, competitive price, and dedicated customer service, the business has received much positive feedback on the market.
The vice president of Shealia Jewelry, said, "We are excited to introduce our beautiful charms and beads to our customers worldwide. All of them are now offered at discounted prices. The current promotion will bring the global customers the best value for the costs."
The sales manager specially emphasizes that their new collection of letter charms comes with special discounts, up to 45% off. Moreover, all the subscribers of Shealia Jewelry's official website can enjoy a 10% off discount. Any order above $50 comes with a high-end elegant gift box, and free delivery for any order above $119 (i.e. You can receive your order within 3-5 days).
"We ensure that each of our jewelry is made with high-grade materials, and is compatible with many other brands and manufacturers. Our jewelry experts inspect each item carefully before it is packaged and shipped to a customer. If any customer is not satisfied with the goods she orders, she or he can enjoy our easy and hassle-free return policy, which apply to all our items, including those with engravings," the sales manager says.
Sterling Silver is a leading fashion jewelry company that is devoted to providing all styles of sterling silver dangle charms, beads, dangle beads, glitter spaces for all women and for each occasion. Over the past few years, Sterling Silver has grown to be one of the most popular retailers of Fashion Jewelry around the world.
For more information, please visit: http://www.shealia.net/ or http://www.pinterest.com/shealiajewelry/.