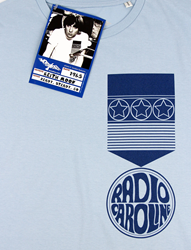 With Worn Free you can delve into the background of the garments. The T-shirts really tell a story.
Scarborough, North Yorkshire (PRWEB UK) 5 June 2014
Online retro fashion retailer, Atom Retro have i just unveiled 'Worn Free', a collection of rock and roll icon inspired t-shirts as their latest brand addition for summer 2014. 'Worn Free' joins 'World Class Collective', another t-shirt centered brand which was recently added to the Atom Retro range.
'Worn Free' resurrect the coolest rock and roll icon t-shirts, faithfully reproducing classic tees worn by a wide range of famous music stars such as John Lennon, Keith Moon, Elvis Presley and more. With photo swing tags to explain the original garment origins, 'Worn Free' t-shirts are real retro collectors items.
Atom Retro buyer Alister Poulton says, "The Worn Free concept fits in with our music and fashion inspired ethos, so we know it's going to go down really well with our customers. There's Keith Moon's famous Radio Caroline T-shirt which he wore on the 1960s TV Show 'Ready, Steady, Go!' Another one that's bound to go down well is Small Faces and Humble Pie legend Steve Marriott's 'Broken Heart' T-shirt."
Worn Free swing tags resemble back stage passes to add extra authenticity. As Alister says, "The tees serve as cultural signposts that mark a part of rock and roll history, allowing us to embrace iconic eras of the past in todays modern world… after all every things better with a touch of retro cool!"
Choosing from a whole host of musical icons and genres, Atom Retro have carefully selected from Worn Free's vast catalogue of designs to include artists such as John Lennon, Blondie, The Who and Pink Floyd within their initial offering.
With Worn Free you can delve into the background of the garments. The T-shirts really tell a story. T-shirts with a story include the Elvis Presley 'TCB Karate' which Elvis fans will recognise as the iconic Elvis 'Taking Care of Business' Mephis Mafia mantra and the rare 'Tommy' t-shirt worn by The Who frontman, Roger Daltrey in 1975 to promote the film of The Who's rock opera.
'Worn Free' sits next to other nostalgic t-shirt collections in the Atom Retro store such Andy Warhol by Pepe Jeans which features cool takes on Warhol's celebrity themed artwork including T-shirts with Marilyn Monroe and Elvis Presley designs. Meanwhile, 'World Class Collective' and COPA collections revolve a retro football theme.
Worn Free will be available at Atom Retro this summer, in both men's and women's styles.
About Atom Retro:
Atom Retro is a UK leading clothing retailer, boasting the largest range of authentic, high quality retro and mod clothing for men and women online. The Atom Retro range is inspired by the Carnaby Street boutiques of the sixties and includes an ever growing list of iconic brands and original, independent designers. Browse Atom Retro's extensive range of retro and mod clothing at http://www.atomretro.com.