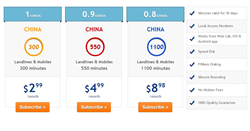 Works very smoothly. You can count on it when you need it. - DianhuaChina.com customer, on ResellerRatings.com
Atlanta, Georgia (PRWEB) June 06, 2014
DianhuaChina.com's family of products grew bigger, welcoming its youngest and smallest/cheapest monthly plan. The "kid'"name/latest product offered is China 300, and due to its low rate of only $2.99/month it promises to bring lots of friends/make the distance between US and China even more bearable and affordable.
China 300 offers 300 minutes to call any number in China at only 1 ¢/min. China 300 joined the other 2 monthly plans DianhuaChina.com offers its customers: China 550 for $4.99/month, or China 1100, for $8.98/month. No matter the type of plan customers choose, the subscription renews automatically every 30 days and the minutes offered are added to customers' accounts. In addition, plans can be canceled anytime, with no penalties. Also, customers may upgrade or downgrade their plans at any time, an option that is available in their online account.
Close relatives of the monthly plans, the Voice Credit service offer customers attractive rates to call China: 1.6 ¢/min for any landline or mobile call. The service works as a prepaid phone card offering all the benefits an online service provides: transparency, online account with free features, 24/7 Customer Support and many more.
Just like the monthly plans, the Voice Credit service can be used by customers:

From any landline, mobile or even payphone in the world, through local or toll free access numbers.
Calls may also be placed through the app called KeepCalling, which is not chargeable. The iOS and Android applications may be used to call without having to dial any access number, and even any phone number at all. Once logged in the app, customers can use their phone contacts list to call.
From any PC with Internet connection, using the Web Call app available in customer's account.
Besides the Voice Credit and Monthly Plans, DianhuaChina.com customers may top up the mobile phones of family and friends from China via the Mobile Recharge service. The process takes less than 1 minute and the credit is sent instantly to the destination number. Also, customers may enjoy a feature newly added on DianhuaChina.com, which can reduce with up to 50% the time they spend while recharging a mobile. All they need to do is to:
1. Log in to their account.
2. Go to the Mobile Recharge page. All the China Mobile, China Telecom or China Unicom prepaid numbers recharged in the last 90 days will be listed here.
3. Select the number they want to recharge. Both the country and the operator the number belongs to will be automatically filled in.
4. Choose the amount of the recharge and continue to the checkout page.
Safety is a major concern for DianhuaChina.com. This is why there are several security filters, protecting customers from possible frauds and making all transactions 100% safe. All major payment methods are accepted: Visa, MasterCard, American Express, Discover and PayPal.
The easy-to-use products and reliability of the service, as well as the 24/7 Customer Service make DianhuaChina.com a reliable partner in keeping a close relationship with friends and family back home. Or as customers put it: "Works very smoothly. You can count on it when you need it.", anwwan - DianhuaChina.com customer, on ResellerRatings.com.
About DianhuaChina.com:
DianhuaChina.com is an interactive website designed by KeepCalling, a global telecommunications company registered in 2002 in USA. KeepCalling, the company behind DianhuaChina.com, offers many telecom solutions: Mobile Recharge, Voice Credit, Virtual Number, Monthly Plans, Web Call, and Web SMS through various ethnic websites. Presently, KeepCalling provides its services to over 200,000 consumers and businesses, with a focus on customer satisfaction. In 2013, Inc Magazine listed KeepCalling as the 16th fastest growing company in the telecommunications industry.