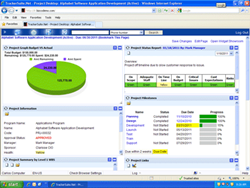 It's like Legos for business.
Tucson, AZ (PRWEB) June 11, 2014
Automation Centre, a leading provider of advanced team collaboration software, today announced the release of their newest and improved software suite. Users of TrackerSuite software include many of the Fortune 500, Automation Centre is leading the way with its Tracker software, which is about to be improved further with this new update. Automation Centre Founder Steven Birchfield explains how this updated version of TrackerSuite.net business management software can help companies all around the globe.
TrackerSuite.net was built to drive business with improved participation metrics for virtual organizations. Many companies use different software packages for their different departments. The sales team may be using one thing while the admin use another, and accounting something else. These software systems don't talk to each other. They may say they do but as different packages, they can never be truly synergetic. It is an already difficult communication experience within a virtual organization made worse.
"With Tracker Suite, it's everything in one box. All you need to run your company is an email engine, an accounting system, and Tracker Suite."
The Suite comprises of several different tracking modules that when put together can create different environments for different industries. This simplified system lets users chose what systems they need and for go any unwanted waste. Building their own computing system is now much easier and reliable. It's like legos for business. The new release of Tracker Suite 4.2 has several updated features including improved security, improved scalability and visualizations, notification and email improvements, as well as hundred of application improvements.
The TrackerSuite software is now C2 class security certified. A security level required for use within government agencies. It utilises top cloud security and uses SAML 2.0 integration to provide improved security and single sign on. Both SP-Initiated and IDP-Initiated single sign-on mechanisms are supported. Sign in to one place and see all your cloud apps in front of you, speeding up cross platform organization with the safety of secure passwords.
The ability to drag and drop data items on the web was a major innovation of Web 3.0 and TrackerSuite.net leverages this technology fully to its advantage. An improved project management software experience with a new, more scalable Gantt chart that is easier to use, supports multiple scheduling scenarios (as well as lead and lag), highlights critical path, and supports drag and drop as well as point and click visual linking has been added.
Notification and email have also taken a big leap forward to a more prominent place in the newest version of the Tracker Suite software. Updating communication and improved collaboration in an enterprise social network. An improved notification email system keeps you in constant contact with employees and colleagues. Templates allow custom messages for nearly everything, including: projects, tasks, tickets, customers, and web timesheets.
Tracker Suite is an all in one collaboration platform that helps businesses communicate, collaborate, and coordinate in their every day running. The software is a solution to project management, job costing, time reporting, CRM, IT, HR, Sales Force automation and more all in a single cloud based package. It is a rental model that can be bought by user, by month using Automation Centre servers or bought outright and hosted on internal company servers.