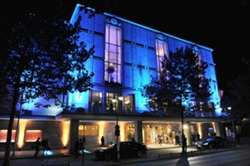 A program chock-full of world-class performances.
Düsseldorf, Germany (PRWEB) June 04, 2014
It's no coincidence that Düsseldorf's Opera House offers more high caliber performances than most other cities in any given season. The opera company behind it – German Opera on the Rhine – stages performances in 2 cities on the Rhine. Opera and ballet enthusiasts in Düsseldorf benefit from this double dose of talent and organization with a program chock-full of world-class performances, and the upcoming 2014/15 season is no exception. Highlights include:
Opera:
9/13/14: Mozart's "Magic Flute," in a spectacular production by Barrie Kosky and Suzane Andrade that generated storms of enthusiasm and sold-out performances at Theater Duisburg since last December.
9/27/14: "Ariadne on Naxos" by Richard Strauss, conducted by General Music Director Axel Kober and directed by Dietrich Hilsdorf The opera is one in a series of Strauss performances at the Opera House since 2009, including "Salome," "Woman without a Shadow," "Elektra," and "The Knight of the Rose."
11/28/14: "Aida" by Guiseppe Verdi, directed by Phillip Himmelmann and alternate conductors Axel Kober and Wen-Pin Chien. Leading roles by Morenike Fadayomi, Susan Maclean, Sergej Khomov and Boris Statsenko. The Opera's chorus plus a guest chorus provide an opulent sound.
12/5/14: "The Csárdás Princess" by Emmerich Kalman. Director: Joan Anton Reich (repertoire).
1/30/15: "L'elisir d'amore" by Gaetano Donizetti. Director: Joan Anton Reich.
3/26/15: "Ronia the Robber's Daughter" by Jörn Arnecke. Based on the popular book by famous children's author Astrid Lindgren and staged as an opera for the first time. Directed by Johannes Schmid.
06/13/15: "The Fiery Angel" by Sergei Prokofiev. Directed by Immo Karam, who has made a name for himself at Deutsche Oper am Rhein with his unconventional style as expressed in his staging of a four-part Britten cycle and several other performances.
04/22/15: "Serse" by George Frideric Handel. This hit production by Stefan Herheim commands special attention. Countertenor Valer Sabadus returns to the Düsseldorf Opera House in the title role of the hero Xerxes.
Ballet:
b.21 to b.24 is a ballet program by German Opera on the Rhine and a series of ballet performances – each comprised of three parts - that includes 7 world premieres and 5 pieces by leading choreographers of the 20th and 21st centuries. Several pieces will be performed in Düsseldorf:
11/17/14: b.21. This world premiere offers a double sensation: the first piece by Dutch choreographer Hans van Manen for a German company in 20 years and the return of Martin Schläpfer, Director and Chief Choreographer at Ballet on the Rhine in Düsseldorf and Duisburg, to the stage as a dancer.
3/14/15: b.23. Martin Schläpfer's "Johannes Brahms – Symphony Number 2" arrives in Düsseldorf after successful performances in Duisburg. At the heart of b.23 is a dialogue between the arts of ballet and flamenco, which includes members of "Flamencos en route", one of the most interesting flamenco ensembles in the world.
12/19/14: "7", yet another piece by Martin Schläpfer based on Gustav Mahler's 7th Symphony.
For a complete listing of all 2014/15 season events at the Düsseldorf Opera House, please visit http://www.operamrhein.de or download the season's brochure at http://issuu.com/deutscheoperamrhein/docs/spielzeit_2014-15.
Düsseldorf's tourism office is offering hotel and city specials for many of the city's events throughout 2014, including the opera and ballet performances at the Opera House. The package, called "Düsseldorf à la Card," can be booked right from the tourism office's website at https://www.duesseldorf-tourismus.de/en/hotel-packages/duesseldorf-a-la-card/. Prices start at €49 per night per person based on double-occupancy for a 2-3-star hotel in the city center and at €95 per person for a 4-star hotel. The package includes breakfast, one DüsseldorfCard (free public transportation within city limits plus 30 free or reduced admissions to city attractions), and a city information package. Please check the website for current information.
For more information about the destination Düsseldorf, please visit: http://www.visitduesseldorf.de.
Düsseldorf Marketing & Tourism GmbH is the visitors and convention bureau of the city of Düsseldorf. Its responsibilities include tourism and city marketing, as well as conference and meeting marketing, hotel reservation services, fairs and convention services, city event ticket sales and advance ticket reservations. For more information, visit http://www.visitduesseldorf.de.
Düsseldorf Airport, Germany's Next Generation HubTM, offers several non-stop flights from US & Canadian cities (Atlanta, Chicago, Ft. Myers, Los Angeles, Miami, New York, Newark, Toronto), as well as convenient connections to many European cities. For more information about the airport, visit http://www.dus.com.