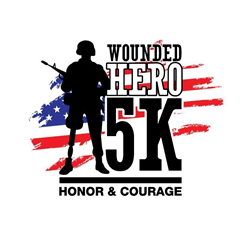 Warminster, PA (PRWEB) June 05, 2014
On Saturday, June 14th from 9 a.m. to noon, the general public, veterans and local military are invited to Warminster Community Park at 300 Veterans Way, Warminster, PA 18974, to participate in The Annual Wounded Hero 5K, featuring A 5K, a one mile fun run, ruck race and more to support the Honor & Courage Program of Operation Ward 57.
The Annual Wounded Hero 5k is an event located in Warminster, Pennsylvania created to bring the community together in a show of support for our nation's wounded heroes. The day is full of motivation and inspiration. We strive to make this a fun filled patriotic family event complete with a 5k, a one-mile fun run, ruck race, face painting, balloon clowns, moon bounce, static helicopter display, food and live entertainment and most importantly wounded heroes as guest speakers.
The 5K race begins at 930 a.m. followed by the ruck race at 10am. Race packets will be available for pickup on June 13th from 6-8 p.m. at Palz Tap House, 1902 County Line Rd, Huntington Valley, PA 19006 or available beginning at 7:45 a.m. on race day at Warminster Community Park.
We are honored to announce that SSgt Ian Newland and Cpl Tyler Southern will be speaking to share their experiences and raise awareness for veteran related issues. SSgt Newland, a Bronze Star medal and Purple Heart recipient, spent nearly five years rehabilitating his severe wounds and is an avid public speaker on Veteran related issues. Cpl Tyler Southern, a triple amputee, uses his amazingly positive spirit to motivate and educate his fellow brothers in arms and educate civilians on the ways to overcome and adapt to life's challenges.
The event will also pay special tribute to one of Pennsylvania's own – fallen hero and Medal of Honor recipient Spc. Ross McGinnis. We will be honoring Spc. McGinnis and his family as well as also celebrating his birthday.
All funds raised from the event will go directly to Operation Ward 57's Honor & Courage Program which provides wounded warrior mentors, motivational speakers, youth motivational speaker and mentor, assistance to our nations wounded heroes and their families.
General Info: To register for the race: http://www.active.com/warminster-pa/running/distance-running-races/wounded-hero-5k-2014?int=
About Operation Ward 57: Walter Reed National Military Medical Center (WRNMMC) in Bethesda, MD is the first stop for many of America's returning wounded service members from Iraq and Afghanistan. Known as "the amputee ward", historically, the orthopedic Ward 57 at WRAMC, now 4E at WRNMMC, houses patients for weeks or even months and the painful sacrifice of losing one or more limbs is the new battle these heroes and their families now fight. Operation Ward 57 was founded in 2007. Our mission is to support wounded, injured and ill service members, veterans, their caregivers and those that aid in their recovery by providing assistance and outreach in their recovery, comfort and morale, and through advocacy, education and promotion of their circumstances.
Tax ID 61-1521946
Event Website: http://www.woundedherorun.com and https://www.facebook.com/TheAnnualWoundedHero5K
###
Contact:
Event Organizer - Heather Sliwinski, Honor & Courage Program Director, heather.sliwinski(at)operationward57(dot)org / (267) 210-6956
Operation Ward 57 - Brittney Hamilton, Executive Director, Brittney(at)operationward57(dot)org (206) 713.1363 / http://www.operationward57.org