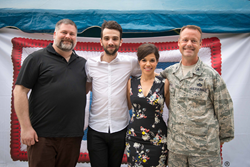 'In 2010 I did a USO tour in Iraq and Qatar,' said Ferrera. 'When I heard we had the chance to come to a base and share this film, it felt like such a wonderful gift to us... because this film really does bring families together.'
Arlington, VA (PRWEB) June 09, 2014
Twitter Pitch: .@the_USO screening of @DWAnimation's #HTTYD2 w/ ‪@BaruchelNDG @AmericaFerrera & @DeanDeBlois a big hit w/ troops! http://bit.ly/1n257JB
In celebration of summer and the upcoming release of their new epic new computer-animated film, actor Jay Baruchel, actress/USO tour veteran America Ferrera and writer/director Dean DeBlois treated troops and their families to an advance USO Screening of DreamWorks Animation's "How to Train Your Dragon 2" at Joint Base McGuire-Dix-Lakehurst in New Jersey on June 4. **USO photo link below**
DETAILS:

The USO Screening of "How to Train Your Dragon 2" took place at the base theater on Joint Base McGuire-Dix-Lakehurst in New Jersey on June 4th and was attended by more than 450 troops and military families.
The event kicked off at 6:30 p.m. with a 100-minute advance viewing of "How to Train Your Dragon 2" followed by a private USO Q&A with actor Jay Baruchel, actress America Ferrera and writer/director Dean DeBlois.
The evening concluded with heartfelt remarks from the trio to those in attendance as well as a USO autograph session, where the group signed mini movie poster memorabilia and 'Toothless' the dragon posed for photos with military families in attendance.
This event marked the first USO experience for Baruchel and DeBlois, and the second for Ferrera – who traveled to Iraq and Qatar in 2010 and visited with more than 1,300 troops at nine forward operating bases, combat outposts and military camps.
Idyllically set on the Isle of Berk, a small island home to the Hairy Hooligan tribe, "How to Train Your Dragon 2" picks up five years after the first film and follows 'Hiccup,' his dragon 'Toothless' and their friends as they venture to new places, meet new characters and encounter new adventures. The film is loosely based on the book series of the same name by Cressida Cowell and is the highly anticipated sequel to the 2010 academy-award nominated hit film of the same name as well as the second installment of the adventure trilogy.
In addition to starring Jay Baruchel ('Hiccup') and America Ferrera ('Astrid'), it features Cate Blanchett ('Valka'), Gerard Butler ('Stoick the Vast'), Craig Ferguson ('Gobber the Belch'), Jonah Hill ('Snotlout'), Christopher Mintz-Plasse ('Fishlegs'), T.J. Miller ('Tuffnut') and Kristen Wiig ('Ruffnut'), among other notable names.
Most recognized for her leading role on ABC's "Ugly Betty," Emmy Award winning actress America Ferrera landed her first major motion picture role in 2002's "Real Women Have Curves." Since then, she has gone onto star in such hits films as "The Sisterhood of the Traveling Pants 1 and 2," "End of Watch" and "Our Family Wedding," among others.
Canadian actor/comedian Jay Baruchel has appeared in countless box office successes including "Almost Famous," "Million Dollar Baby," "Knocked Up," "The Sorcerer's Apprentice," "This Is The End" and "RoboCop." Coming up, he can also be seen in "Don Peyote" with Anne Hathaway.
Best known for his work in the Oscar-nominated film "Lilo & Stitch," Dean DeBlois has written and directed an array of films including 'How To Train Your Dragon 1 and 2." Among his other feature films are "Mulan," "Atlantis: The Lost Empire," "and "Go Quiet."
"How to Train Your Dragon 2" was produced by DreamWorks Animation, distributed by 20th Century Fox and is scheduled to open in theaters nationwide June 13.
The USO strives to make every moment count for troops and their families around the world year round, like the advance USO Screening of "How to Train Your Dragon 2." The "Every Moment Counts" campaign invites Americans everywhere to join the USO in honoring and creating moments that matter for our nation's troops and their families. Visit USOmoments.org to learn ways you can thank, give, create and share moments.
QUOTES:
Attributed to Jay Baruchel:
"I was raised to always revere our fighting people. My mom's family is predominantly military. From my granddad, most of my uncles to my cousins … I'm in the minority, in fact. Look there's no way to say 'thank you' properly, I suppose, and this is the closest we can come to doing that and we should leap at the chance. This is the only part of our tour that really means something to any of us personally. Of course, we want kids to go see the movie, but this is on a whole other level… On the surface of course we want to provide entertainment for the family, but ideally some of the deeper things will connect—like loyalty to your people, serving your people and not accepting that just because things are a certain way that that's how they should be."
Attributed to America Ferrera:
"In 2010 I did a USO tour in Iraq and Qatar... for a film that I produced and starred in and my husband wrote and directed, called 'The Dry Land,' which was about a soldier coming home... When I heard we had the chance to come to a base and share this film, it felt like such a wonderful gift to us to be able to bring a happy, heartwarming and exciting film to the families because this film really does bring families together…. It's fun. It's adventurous, but there are a lot of deep and emotional currents running through the film, and so it's a wonderful film to bring military families together and hopefully spark conversations in the family."
Attributed to Dean DeBlois:
"Anyone working for the military, it is a life of sacrifice and honor and duty, and it's definitely something we'd like to honor… At the time we were making this film there were a lot of troops returning home from combat in the Middle East having sustained injuries and that's so heroic… We were trying to communicate in our film that sacrifice entails some loss and there's great heroism behind that. Hiccup's prosthetic leg—the fact that he lost a leg at the end of the first movie – was a nod to the military and all those who have suffered losses. We wanted to present a hero who wasn't slowed down an iota by it…"
MULTI-MEDIA:
USO Tour Photos: http://bit.ly/1n257JB
USO Tour Video: http://bit.ly/1s0xD5d
###
About the USO
The USO lifts the spirits of America's troops and their families millions of times each year at hundreds of places worldwide. We provide a touch of home through centers at airports and military bases in the U.S. and abroad, top quality entertainment and innovative programs and services. We also provide critical support to those who need us most, including forward-deployed troops, military families, wounded warriors, troops in transition and families of the fallen. The USO is a private, non-profit organization, not a government agency. Our programs and services are made possible by the American people, support of our corporate partners and the dedication of our volunteers and staff.
In addition to individual donors and corporate sponsors, the USO is supported by President's Circle Partners: American Airlines, AT&T, BNSF Railway, Clark Construction Group, LLC, The Coca-Cola Company, Grand Canyon University, JCPenney, Jeep, Johnson & Johnson, Kroger, Northrop Grumman Corporation and TriWest Healthcare Alliance and Worldwide Strategic Partners: BAE Systems, BIC, The Boeing Company, ConAgra Foods, FedEx, Lockheed Martin, Microsoft Corporation, Procter & Gamble, TKS Telepost Kabel-Service Kaiserslautern GmbH & Co. KG and Wawa Inc. We are also supported through the United Way and Combined Federal Campaign (CFC-11381). To join us in this patriotic mission, and to learn more about the USO, please visit uso.org.