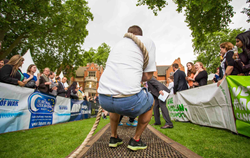 I have had personal experience of Macmillan nurses, and can vouch for the fact that their service is second to none.
London, UK (PRWEB UK) 4 June 2014
For the second successive year, The European Azerbaijan Society (TEAS) was a Gold Corporate Patron for the 27th annual Macmillan Parliamentary Tug of War competition on 3 June. Pitting the brute strength – but also the guile and technique – of both male and female teams from around the UK against each other, the event culminated with a competition between the House of Lords and House of Commons – the upper and lower houses of the UK Parliament – eventually being won by the Commons' team. The event – compèred by BBC presenter Jeremy Vine – was in aid of Macmillan Cancer Support, which provides support that helps people take back control of their lives, so that no-one has to face cancer alone. Last year's event raised an estimated £135,000.
The ancient sport of Tug of War originated in ancient Egypt and China, although it achieved popularity in the UK from the 16th century. It is now a staple element of traditional life throughout English towns and cities. In Azerbaijan, the sport has a different variant, with individual men, matched by weight and fitness, competing against each other. Such competitions normally take place during the Novruz celebrations in March – the ancient Zoroastrian celebration of spring.
The Rt Hon the Lady D'Souza, Speaker of the House of Lords, commented: "Few people here will have been untouched by cancer in some way, whether it has afflicted friends, relatives, or even themselves. Diagnosis and treatment is a time of enormous fear, confusion and hundreds of questions spring to mind that need to be asked, but are rarely answered.
"I have had personal experience of Macmillan nurses, and can vouch for the fact that their service is second to none. They provide a haven of peace for people when they really need it and their work is invaluable."
The Rt Hon John Bercow MP, Speaker of the House of Commons, said: "I think we should remember to thank Macmillan. Those words are said all too rarely, as huge numbers of people the length and breadth of the UK owe a debt of gratitude to Macmillan nurses for all they do to support those living with cancer, including the friends and families of those dealing with this scourge."
Ciaran Devane, Chief Executive, Macmillan Cancer Support, concluded: "I would to thank all our sponsors. Macmillan works very closely with Members of the Lords and Commons during the life of a Parliament. They work very hard for us, and put in the hours to support us. Following the General Election, there will be a new Parliament, and during its life we expect the incidence of cancer to rise by a quarter, due to the ageing population. We will need the support of all new and re-elected MPs."