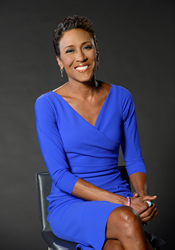 McLean, Va (PRWEB) June 04, 2014
The Alliance for Women in Media Foundation (AWMF) is pleased to announce that Robin Roberts, anchor, ABC's Good Morning America, and a 2014 national Gracie Award recipient, will be a special guest at the 39th Annual Gracie Awards Luncheon. The Gracies Luncheon will honor the accomplishments of women in media and entertainment at the local, public, online and student levels on June 11, 2014 at the New York Hilton Hotel in New York City. This year's Gracies Luncheon Hosts are Moll Anderson and Nancy Giles. A celebration that spans two coasts, the Gracies Gala honored national winners at the Beverly Hilton Hotel on May 20.
Each year, the Gracies attracts the best and brightest in radio, television, cable and new media. This year's local, online public and student winners include: MPR News' Betrayed by Silence, AARP's Beyond the Face of Alzheimer's - A Few Good Men, The George Washington University's Plus Size: The New Normal, KNX's Healthcare Uncovered, and Mudbath Productions' Satellite Sisters. The full list is available on the Gracies website.
"The Gracies Luncheon is a memorable event that honors and shares the compelling work of so many women in media as well as recognizes the next generation of media stars," said AWMF Chair Kay Olin. "We are pleased to award Robin Roberts with a Gracies statue at our Luncheon as she is a notable reporter whose work serves as inspiration to all in attendance. "
Under Robin Roberts' leadership, Good Morning America has won three consecutive Emmy Awards for Outstanding Morning program. When not traveling around the country or the world covering breaking news events, Roberts is at "GMA's" studio in Times Square conducting interviews with a diverse group of newsmakers. Her headline-making interviews include: President Barack Obama; First Lady Michelle Obama; actor Sidney Poitier; basketball legend Kareem Abdul-Jabbar on his battle with leukemia; and Lisa Niemi on the loss of her beloved husband, Patrick Swayze. Roberts has also done extensive reporting around the globe.
The Gracies are presented by the Alliance for Women in Media Foundation, the philanthropic arm of the Alliance for Women in Media that supports educational programs, charitable activities, public service campaigns and scholarships to benefit the public, the electronic media and allied fields. The Gracie Awards, established in 1975, honors programming and individuals of the highest caliber in all facets of radio, television, cable and web-based media, including news, drama, comedy, commercials, public service, documentary and sports.
The event is made possible through the generous support of the following sponsors: Hair Care Sponsor: Sexy Hair; Director Sponsors: NCTA, Retro Report and USA Today; Writer Sponsors: Bloomberg, Cox Media Group and Katz Media Group.
For more information about the 2014 Gracies, please visit http://www.thegracies.org. For the most up-to-date, insider information, follow the Gracie Awards on Twitter @thegracies.
CREDENTIALED PRESS: For press information in regard to covering the event, please contact Andy Schwarz, AWMF Director of Public Relations at aschwarz(at)allwomeninmedia(dot)org.